We're not going into full detail here, there's plenty of information available online. This is a basic guide to help those entering the hobby, what modifications are considered as "must-have" and a good set of links to get you started with your fox body Mustang.
What is the fox Mustang – Beginner's Guide
You probably already know it's the Mustang from 79 to 93 and a platform based on the 78 Fairmont. Jack Telnak was the one responsible for the 3rd gen Mustang (fox) and helped bring the European aero looking Mustang to Ford.
Not much changed from 79 to 93. You may hear "4 eyes" (79-86) and "aero-nose" (87-93). Of course there were some variations to the 4 eye designs and not so much for the aero-nose.
More on the fox platform:
Interior Restoration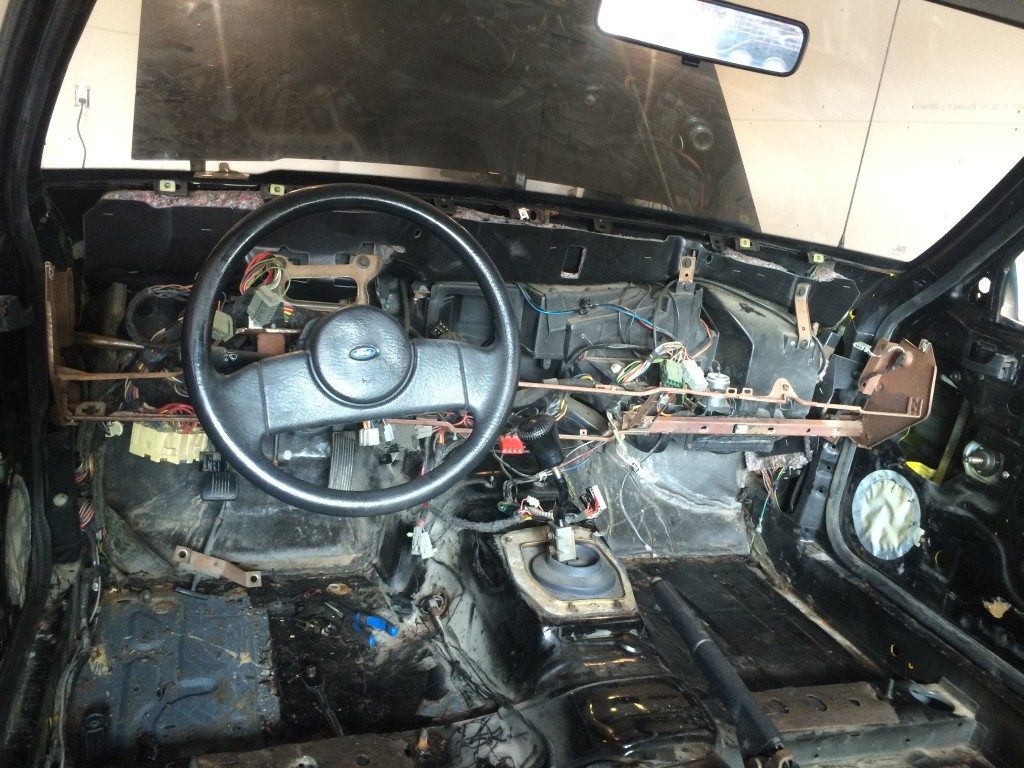 Interiors are easy to restore. You can gut an entire Mustang interior within an hour or so and two if you remove the dash. Typically a fresh new carpet, seats professionally cleaned, plastics scrubbed and detailed and you have a pretty good interior. I suggest buying the screw kit from LMR if doing this, well worth the (around) 40 bucks. It will save you some headaches and make sure everything is tight.
More Info:
Some Basic Mods & Swaps
2.3 to 5.0 swap?
In 1980/1981 the Windsor 302 (5.0) was replaced by a 4.2 due to the oil crises. But "the boss is back" in 1982 with the optional 5.0L. A lot of people buy a non-turbo 4 banger fox to convert to a 5.0 as they're most likely not as "twisted" and certainly hasn't seen the drag strip.
Your pushrod 5.0L will fit in your Mustang's K-member so long as it didn't have a straight 6 from factory. So the 2.3, 3.8 (and even the 4.2L V8) will be ok.
The non-5.0 cars (or older 5.0 cars) won't have dual exhaust or 8.8 axle with limited slip. So keep that in mind, the 7.5 will hold (probably). If you plan on going with dual exhaust, you'll have to re-route some brake lines to make it work and make sure you have the dual hump transmission cross-member.
EFI is not as hard as you think to swap, you just need to research the differences. Carb cars are much easier and I don't personally suggest taking an EFI car and converting to carb'd (just an opinion).
The easiest is to find a V8 donor car. That way you'll have everything needed right next to your project.
More info:
Auto to 5 speed swap?
Also a pretty simple job. You'll need: flywheel, pilot bearing, clutch, clutch cable, pedal assembly, throw out bearing, T5 transmission, cross-member, transmission mount, yoke, shifter, shift boot and shifter panel.
The 4 banger T5 will fit the V8 (you will need the V8 bell housing, flywheel, etc…) and you will need a pilot bearing from an old Ford Ranger. It's a tad weaker than the V8 version but if you know how to shift or don't drop the clutch with slicks, it will last, at least until you can find something better.
Some Info:
5 lug upgrade?
There are several ways to do this. Most popular today is the SN95 stuff, it's affordable and gives you the opportunity to go with larger PBR calipers (from 03 GT) or even the large 13" Cobra front setup. Grab the spindles, calipers, axles, dust shields, booster, master from a 94 to 95 Mustang (V6 or V8) and swap it into the fox. You'll need things like an aftermarket proportioning valve and gut the factory distribution block. Maximum motorsports has all the brake line kits you'd ever need but you could get away with some adapters to retrofit your existing lines. I will note that you should buy SN95 ball joints and NOT use spacers for the job. The SN95 setup will widen the track width a little, best way to put wide tires is to use 2005 specs for wheel backspacing.
Another popular way (and cheaper) is to slap on some Lincoln rotors up front (make sure you have 87-93 spindles) and Ford Ranger axles/Drums for the back. Problem with this is the hub size up front won't match with a lot of wheels and you may need some spacers. If you want rear discs, some go with the SVO setup or the North Racecar brackets that have the right offset to install SN95 rear calipers on the stock fox length axles.
Some Info:
Foundation Mods for your new fox body Mustang
Other than the 5 lug setup and larger brakes, here are some popular and what most will consider as foundational modifications to the fox Mustang. The below will help your car grow and accept more power.
3G Alternator: This is an easy mod, replacing the weak and ugly 2G is a few simple steps, relatively cheap and needed if you go with an electric fan or just want more reliability.
Sub-frame Connectors: A basic mod that will help give the unibody chassis a more stable, sturdy feel. Best bet is to get them welded on by someone who knows what they're doing.
255LpH in-tank pump: The stock 88Lph pump is probably tired, so the new pump and upgraded capacity will help you reach higher HP levels and won't affect a stock engine.
More info:
In Conclusion
Of course the fox is a blank slate and there's no limit to what you can do (ok, not true… the limit is the amount of money you want to dump in it). I hope this little introduction has helped. Enjoy the ride and play safe!
What to read next?