During car shows or cars and coffee, we often meet some awesome people. Those who have a passion for the same kind of car and an interesting back story to go with it. Also, since starting foxstang.com, I've had the lucky privilege of meeting some awesome people and learning much more on our beloved fox-body Mustangs. This story is about Dan, who has made a name for himself restoring classic cars and giving fox body Mustangs another lease on life. "My main goal is to find and save one of kind foxes that are no longer out on the street, I make sure these cars get back out on the street again and go to good hands." ~ Dan G.
Dan's First Fox Mustangs
As a boy, Dan's father always talked about cars and was able to point at any and tell the year, make and model. This love affair with cars was passed on to Dan and he was inspired to take a small engine class in high school. That's when Dan fell in love with working on engines and at around the same time he was also introduced to a 1984 GT350 fox body Mustang and started his passion for rare Mustangs.
After finishing high school, Dan went to a tech school for automotive mechanical and was lucky enough to buy his first Mustang, a 1980 Cobra which he was able to wrench on during class. Eventually Dan started working for a company that had extra room for him to work on his new-to-him 89 Mustang GT that he bought after selling the Cobra. The 89 needed some paint and Dan taught himself on how to do bodywork and paint on his spare time with the help of people around him.
Restoration Career
A few years later Dan left that job and started working on cars in his home garage, the first restoration being a '68 Mustang Fastback. After a few lessons learned, that Mustang turned into a beautiful car and afforded Dan to buy a few foxbody Mustangs that needed some love. In the same week Dan bought a '79 Pace Car, '84 GT350, a Turbo hatchback and a Predator GT302H, much to the chagrin of his wife. Dan, being brave, bought two more foxes a few months later, an 86 Saleen and an 85 Dominator. When asked what's his biggest challenge is, he says finding OEM interior parts. He goes on to say that reproduction pieces don't always fit as nicely as OEM so he keeps his eyes open for factory parts.
Restoring Fox Mustangs
Dan says each rare fox has its own character, they build each of them for a reason. He had owned at least one of each rare 4 eyed foxes but does focus on Predators more than others because they are such unique Mustangs. Dan has been a huge champion of rare fox Mustangs and is a big resource to the community. People like Dan keep these old girls running and helps people enjoy what a rare fox body is all about! We are lucky that Dan is willing to share with us some of his foxbody restoration work. He truly is a great contributor to the fox Mustang community and deserves some spotlight. Here are some of his stories from his fox restoration portfolio:
1985 Dominator
Dan bought this 85 out of a barn in Iowa, he did some work on this Dominator and drove it around a little before putting it in storage until the Dominator registry owner purchased it from him.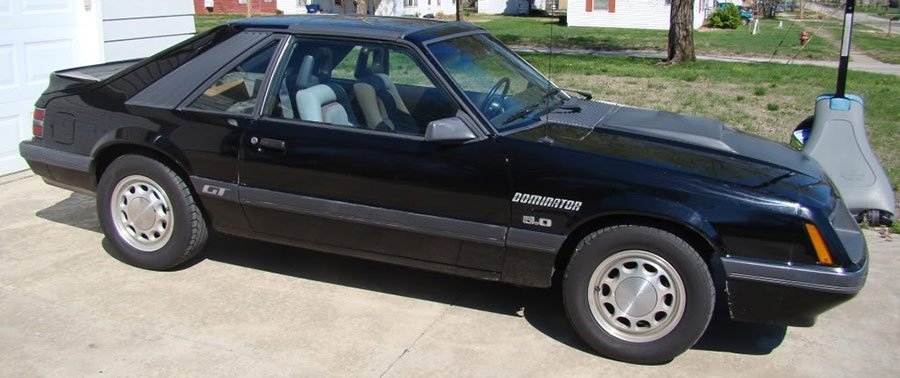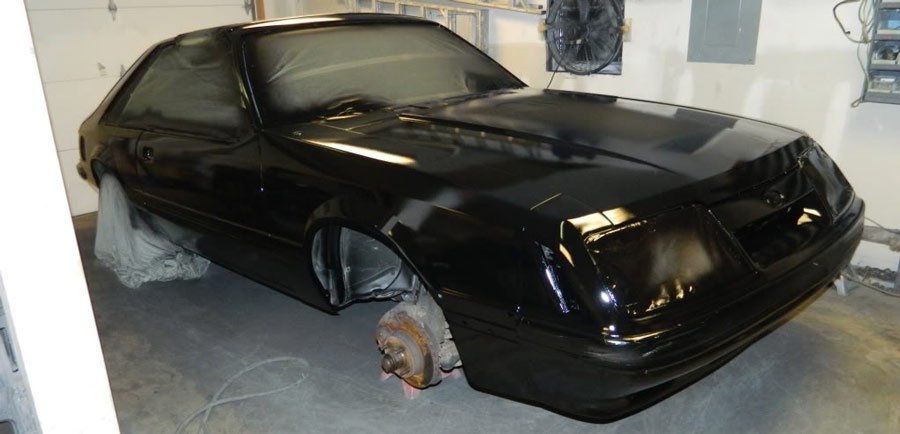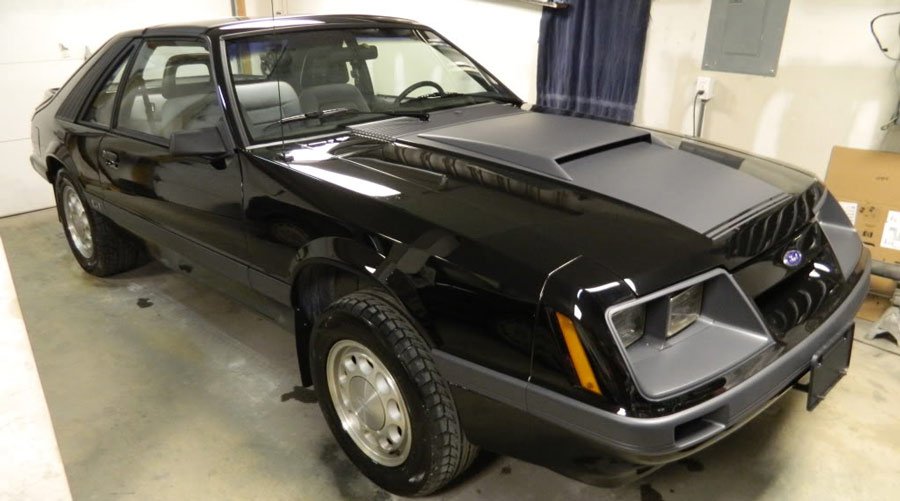 The buyer had a Dominator like this one in the past and it was unfortunately totalled in the mid 90's. The one Dan had was just 2 slots away on the production line – how lucky is that!?
1984 Predator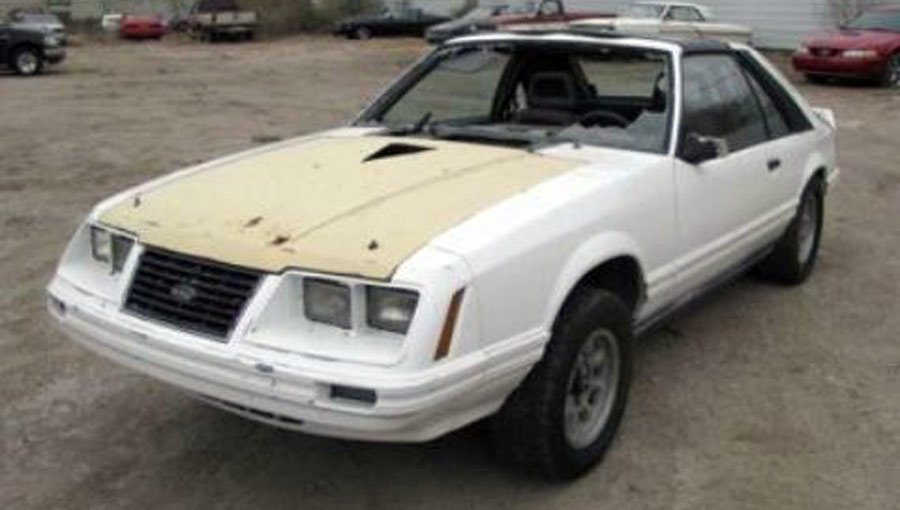 This Predator 4S-102 is the 2nd Predator Mustang in '84. It got a special air dam before the first Saleen came out with same one. This particular Predator was damaged in a hail storm.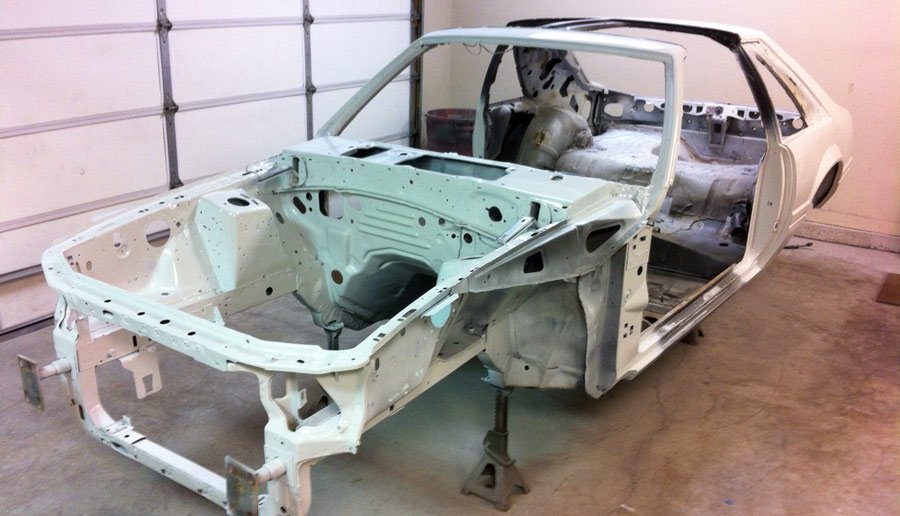 Thankfully Dan decided to save it with a full "off frame" restoration and returned this beautiful Mustang to its glory days looking like it did when it left Solomon American and it went to good home.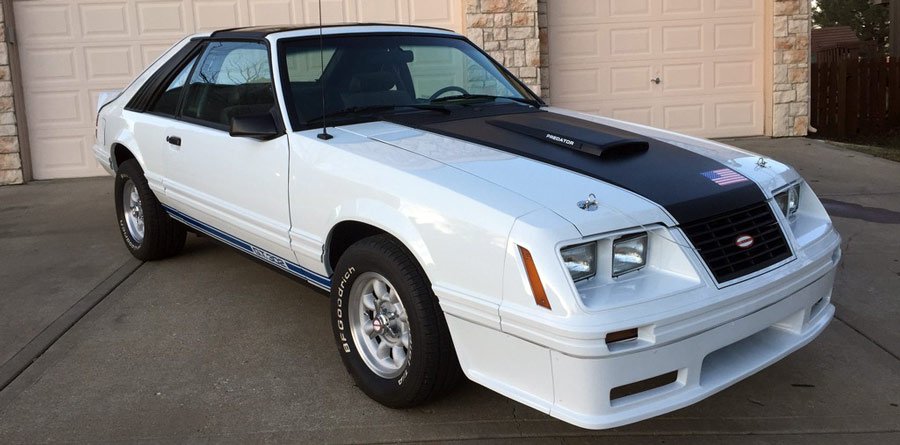 Very Rare 1986 Dark Sage Notch
This rare 86 Dark Sage notchback belonged to one of Dan's friends and according to the Fox-Body Recognition Guide, there were only six 5.0 coupes in that color. It was a unicorn but in rough shape, thankfully Dan restored this notchback and saved this one of six fox Mustangs! Below is a before and "in progress" picture of the Dark Sage notch!

85 Predator GT302R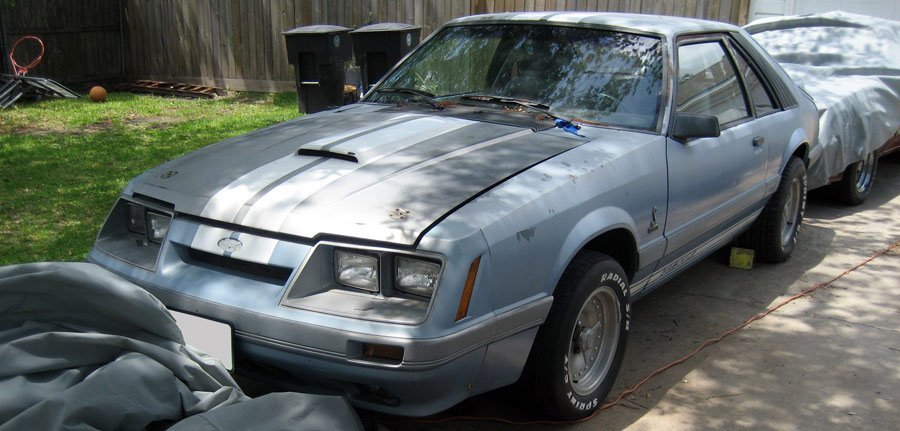 This Predator GT302R 5S-150R belongs to another friend of Dan's. There were a total of 130 Predators built in 1985. Twelve R models and only 6 R models are hatchbacks. Dan believes there were only three Light Regatta Blue Predators ever made, and only one is an R model! The R models received a fibreglass hood, under-drive crank pulley and 3.73 gears.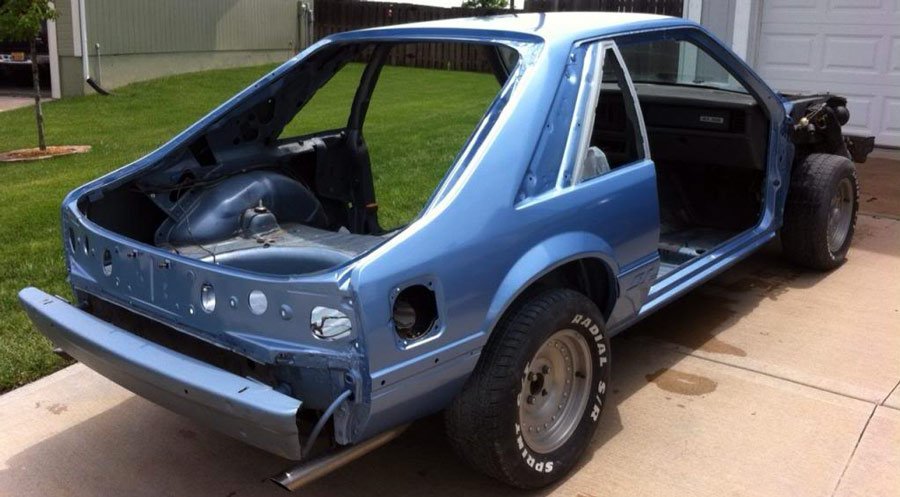 You can see, Dan's detail work is fantastic!

Complete Restoration of an 86 Saleen #177
There were a total of 201 Saleen Mustangs, one of 41 white Saleen hatchbacks, and one of 8 with exact colors and options. There was almost no Saleen parts left when this particular Saleen ended up in Dan's capable hands.

It took Dan a while to collect all the Saleen parts and to restore this fox Mustang to perfection. He owned it for 7 years and went to the 50th Mustang National in Charlotte as well as the Saleen National. Dan is hoping to buy it back one day when he's ready to collect rare fox Mustangs. This Saleen is in the featured foxes section too, full story >

86 DPS (Texas SSP) – Back to its Glory Days

This 1986 DPS (Texas SSP) belonged to a friend of Dan's who had him do a full restoration. Roughly thirty 1986 DPS was serviced in the state of Texas. This fox notchback had a rough life after it had retired from service, it had been turned into a low budget drag car. But Dan brought it back to life!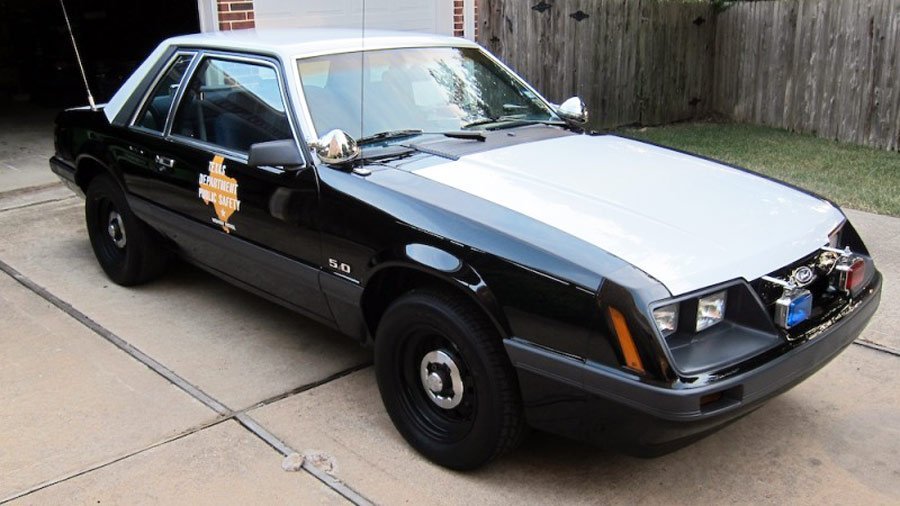 A Couple of Twister II's
This Twister II Fox Mustang was for sale just a few blocks from Dan. He picked it up, restored it and gave it a new home.


There was a total of 90 Twister II's in 1985 and this one was #85 and the very last Twister II with a solid roof. Dan bought it from a guy who had just graduated high school, actually this Mustang had been in the family for a long time. Never been garaged, this Twister II had a lot of sun damage so Dan gave it fresh life with new paint and a new interior. It ended up in the hands of a collector.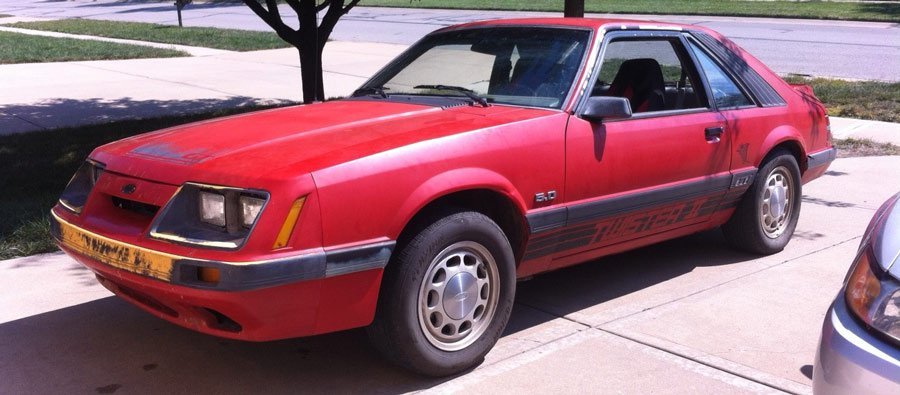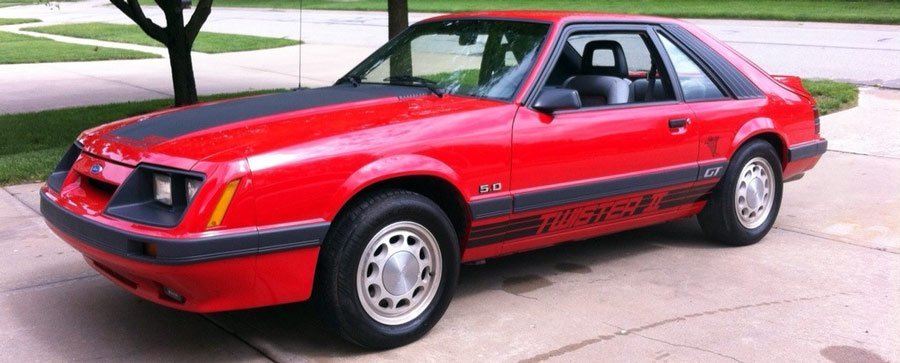 Termi-Powered '85 Predator GT302 Restomod!
Belonging to another friend this Predator 5S-138 got the full "off frame" restoration and got the restomod treatment with a very powerful and tight fitting Terminator powertrain.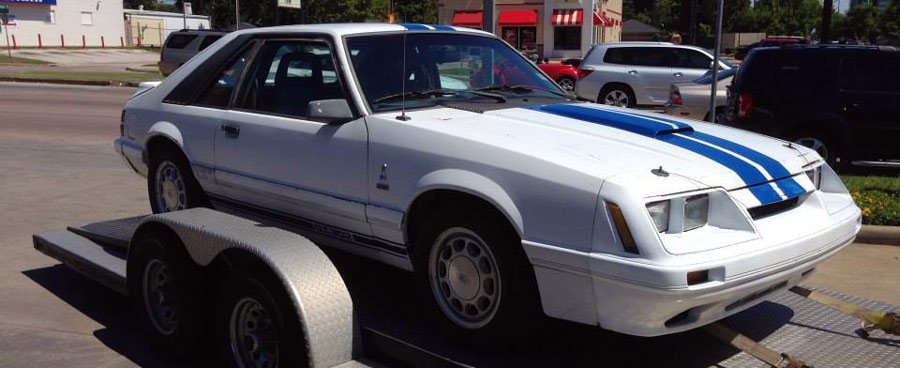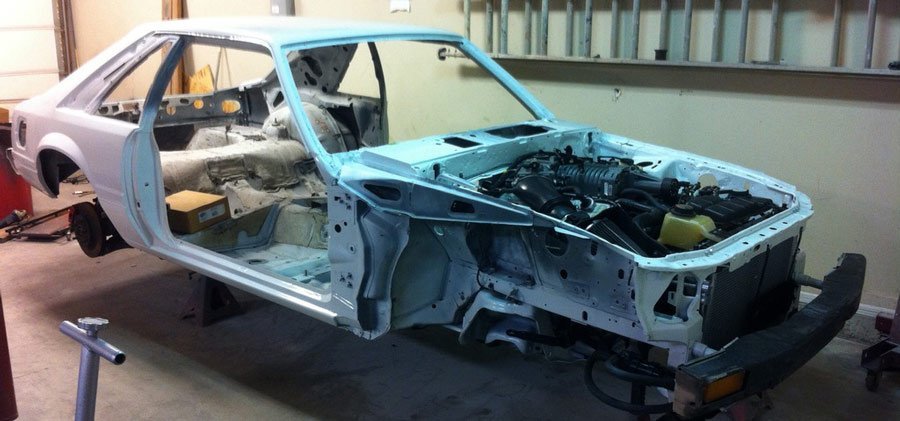 The rest of the Predator remained stock in appearance with the working '85 cluster which Dan notes – it was a huge challenge to get that working. This Terminator Predator is pushing 500HP at the wheels!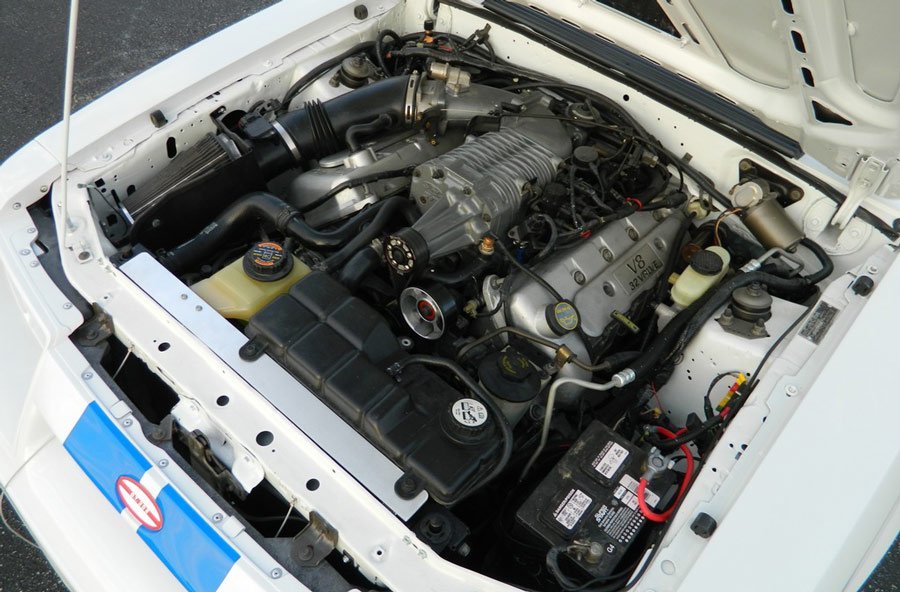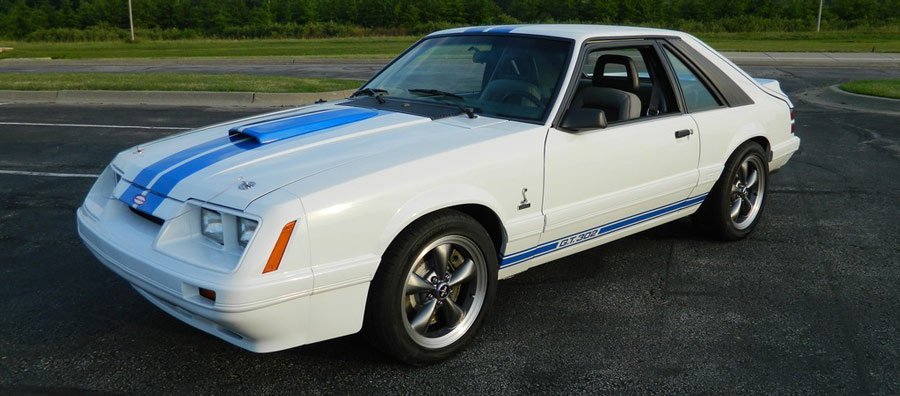 1 of 1 Brown 1985 Predator GT302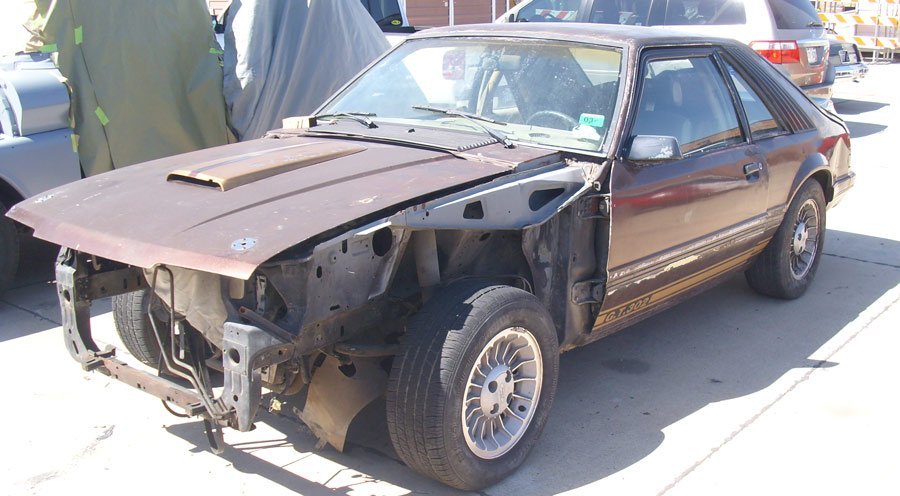 This brown Predator (the only one in that color) belongs to the same friend that owns the Termi-Predator. Not only is this a rare one-off color for the Predator but it's also the only one without the spoiler (LX). This is another full "off frame" restoration performed by Dan.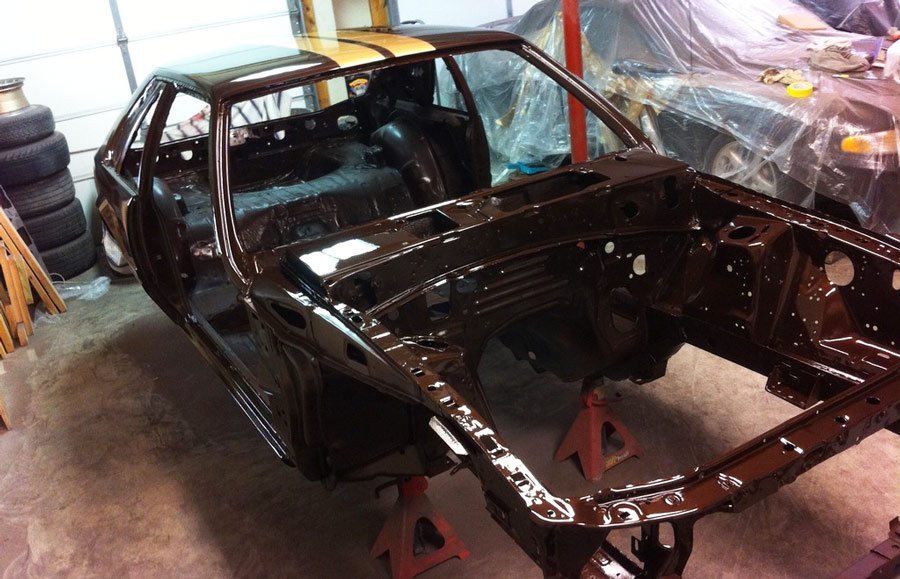 And here's the finished product!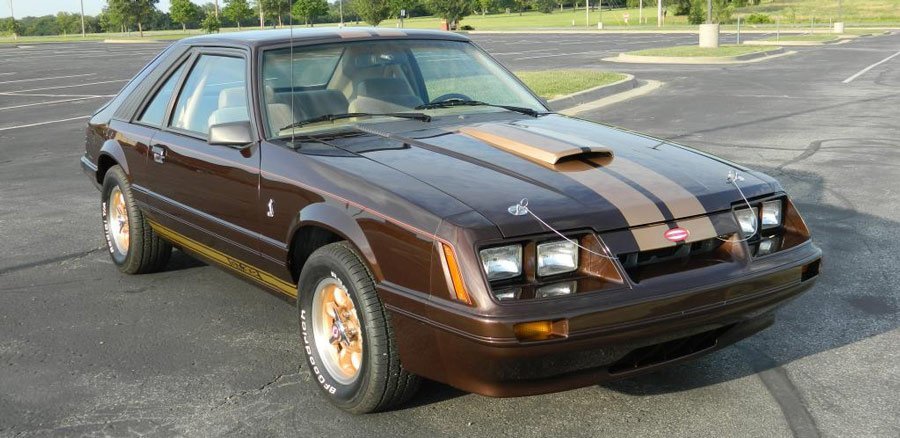 1985 Predator/Twister II 5S-149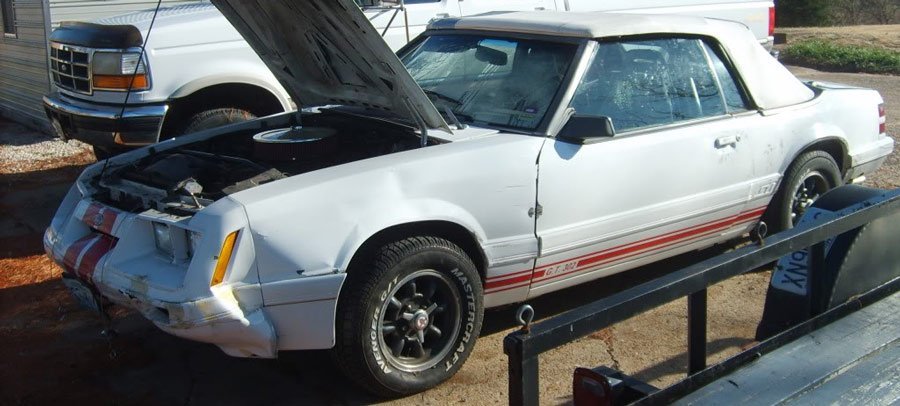 This 85 Predator/Twister II 5S-149 started it's life as a Twister II and was sent to Solomon American to have it converted into a Predator. It did not have any Twister decals left and no one knew about it for 26 years! Dan did his research and confirmed that this particular fox Mustang was both a Predator AND a Twister II.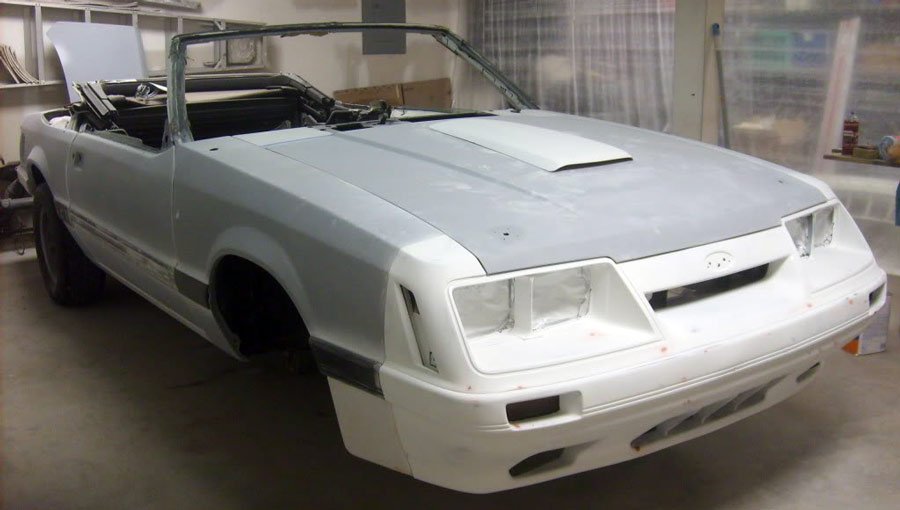 It got a full restoration after Dan bought it and he added the missing Twister decals that had been removed ,probably prior to having the car shipped to Solomon American. Dan was told that there are more of these Predator/Twister II's and tried to confirm it with Mr. Solomon himself but he didn't have any record of this.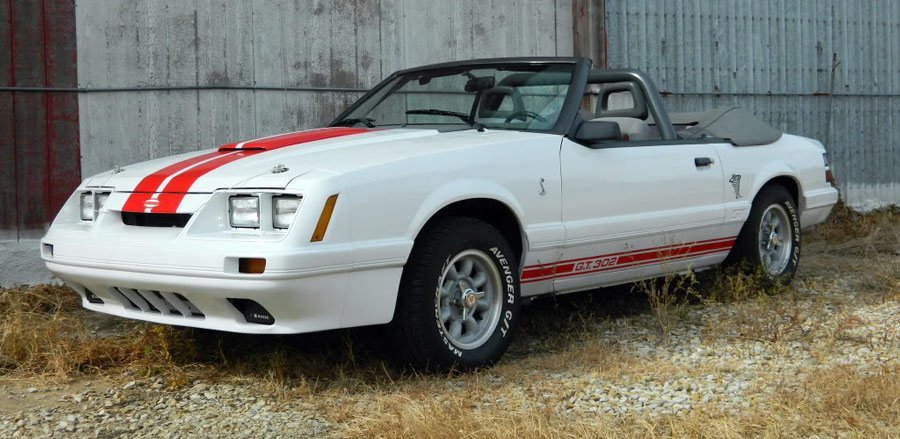 1984 Predator GT302H 4S-119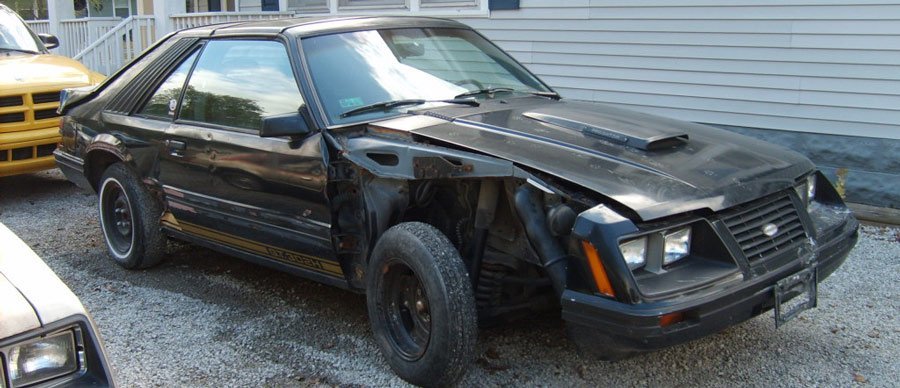 Solomon American produced total of 125 Predators in 1984, and possibly around 40 H-models were built. The H model only came in black and gold like the 65 Shelby GT350H Hertz rental cars, Mr. Solomon liked it that way and did not build them for Hertz.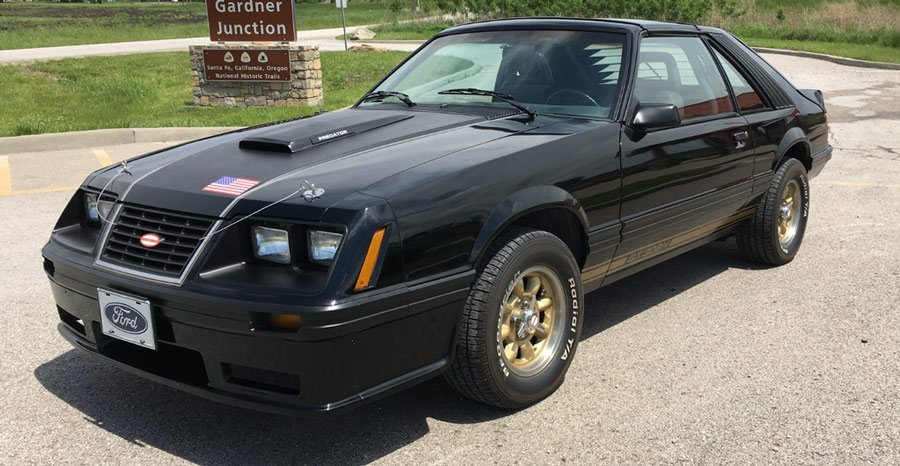 Dan bought it knowing that it needed some body repair but otherwise was a very solid car, it got a new paint job and he owned it for 7 years.
1986 ASC McLaren Coupe #001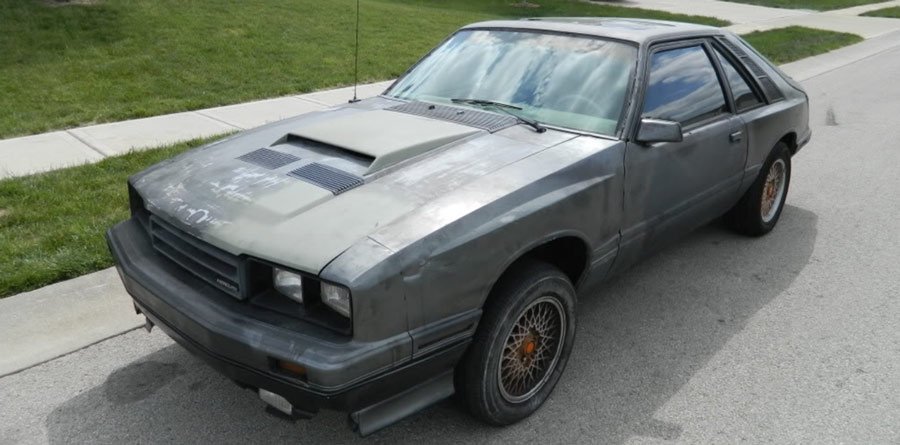 Dan tells us ASC started the serial number on coupes in '86 and had 5 different colors available, they built 115 '86 coupes. Dan's McLaren happened to be the first coupe in 1986 and is numbered 1, and is one of 18 in Shadow Blue.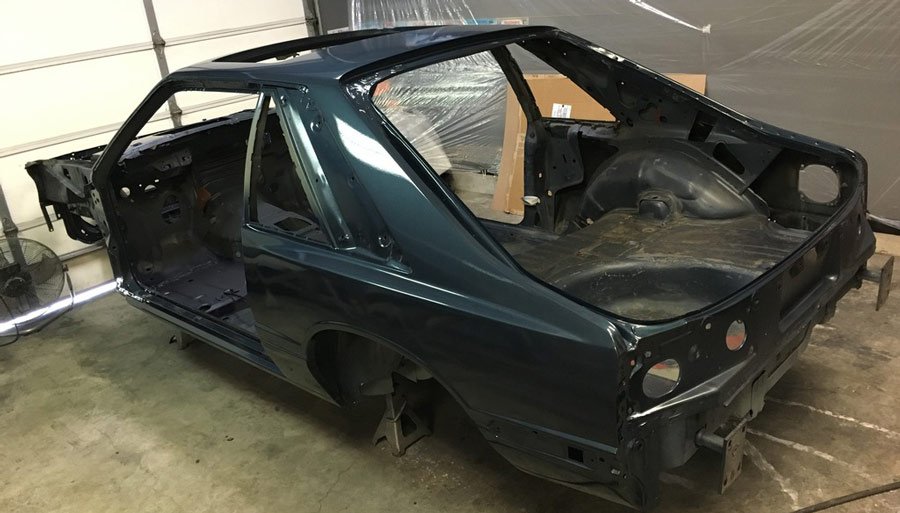 When Dan got the car, he could tell it had rough life and was missing a lot of the original McLaren parts, it took him a while to get all of the parts together and ready for a full "off frame" restoration. A few months later and this ASC was transformed into a beautiful fox once again!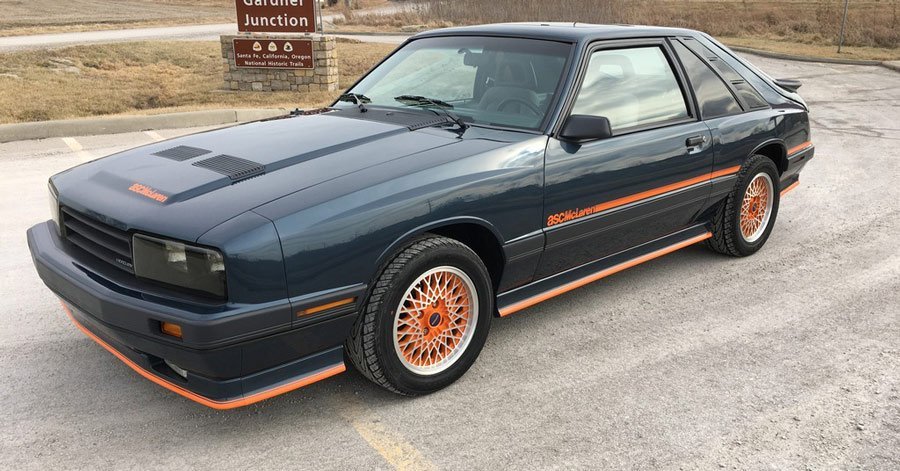 Living the Dream; We asked Dan what his hopes are for the future:
I have had a big dream for a long time, It has taken a long time to get where I am now, I'm pretty close to having my dream come true. My dream was get a big shop and open the restoration business, I love foxes so much, but I have not earned a lot of money from them because they are not worth much as classic or muscle cars right now. I have to hold off on working on foxes for now and have started working on classic cars to make it happen. My goal is to finish about 3 classic cars in my garage to sell, then I will have enough money to start my restoration business. Once I have the shop to do the classic cars, I will work on some foxes again when I have free time. As of right now I have two rare foxes, I would like to start collecting each one of the rare foxes again once I have place for them. I will have a showroom where I can enjoy them because they always have a special place in my heart. I want to give a big thanks to two people, first of all to my wife for her 100% support of me through all of this, and believing in me knowing that I'm doing this for our future. The 2nd big thanks is to my true good friend Chris, we have gotten to know each other over the last 8 years we had met on FEP [www.foureyedpride.com], we have trusted each other, and he brought his 3 rare foxes to me and let me do the restoration jobs on them because he believed in me. And believed that I will bring his foxes back to their former glories. He spread the word to the FEP community and his friends about my work. We also help each other to find hard to find parts and even some rare foxes too. I have done two full off the frame restorations on Predators for his friend too. If not for Chris I would not be able to start my restoration business.
Update: For those emailing me about Dan's contact info, Dan is currently not available to work on other fox projects. He will email me once he's ready and I'll help him spread the word. Be sure to follow FoxStang on Facebook or Twitter for such updates. 
Thank You Dan
Thank you once again, Dan, for sharing your story and love for the rare 4-eyed Fox Mustangs. If there's anyone out there that has a similar foxbody related story, please connect with foxstang.com – this blog is all about all things fox Mustangs including their owners and passionate people who give these Mustangs a new lease on life.