John got into the Foxbody Mustangs growing up in a household with 3 Mustangs, 68, 78 and 83! John quickly learned that Mustangs were cool cars. Fast forward to 1992 when he bought his own Mustang, a gorgeous black 1992 LX 5.0 hatch with just 2,230 miles on the dial! 27 years later this fox still has its factory paint!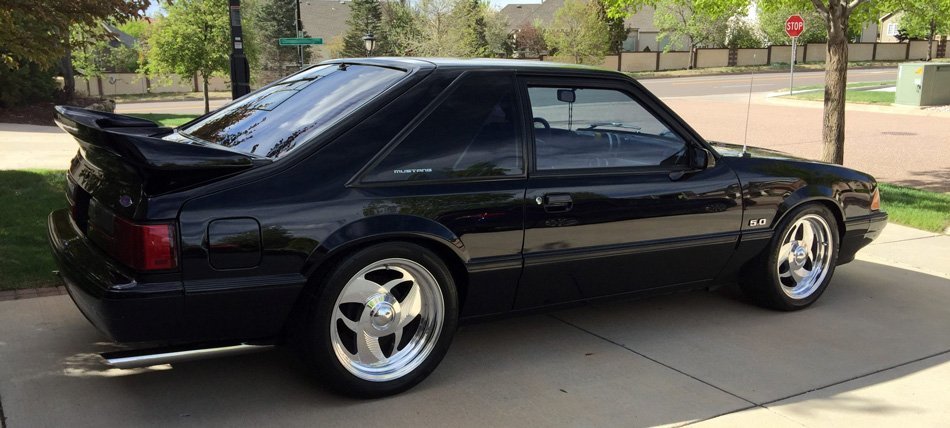 John drove it around daily for a couple years and took it to a Mustang show…just for fun. Well, the show bug hit (hard) and he soon after entered it in just about every show he could find. John airbrushed the plastic engine parts purple and polished various engine parts. He has done very well at shows throughout the years and it has even been featured in 3 national magazines and online articles.
This fox is powered by an FRPP 302 'BOSS' Crate Engine (302 CID, 340HP base), 4-bolt main block, 9:1 compression, forged steel crankshaft, pistons and rods. FRPP X2 aluminum heads, E303 cam, double roller timing chain. Force-fed from a Vortech V3-SCi supercharger (7-10lbs boost), NOS Stage 2 nitrous kit (100HP jet) w/ purge valve. Equipped with an Anderson Power Pipe, 60lb/hr injectors, Holley SysteMAX 2 intake, 70mm Accufab TB, 76mm Pro-M 'Bullet' MAF, JBA ceramic coated headers gives this ride a lot of GO to the SHOW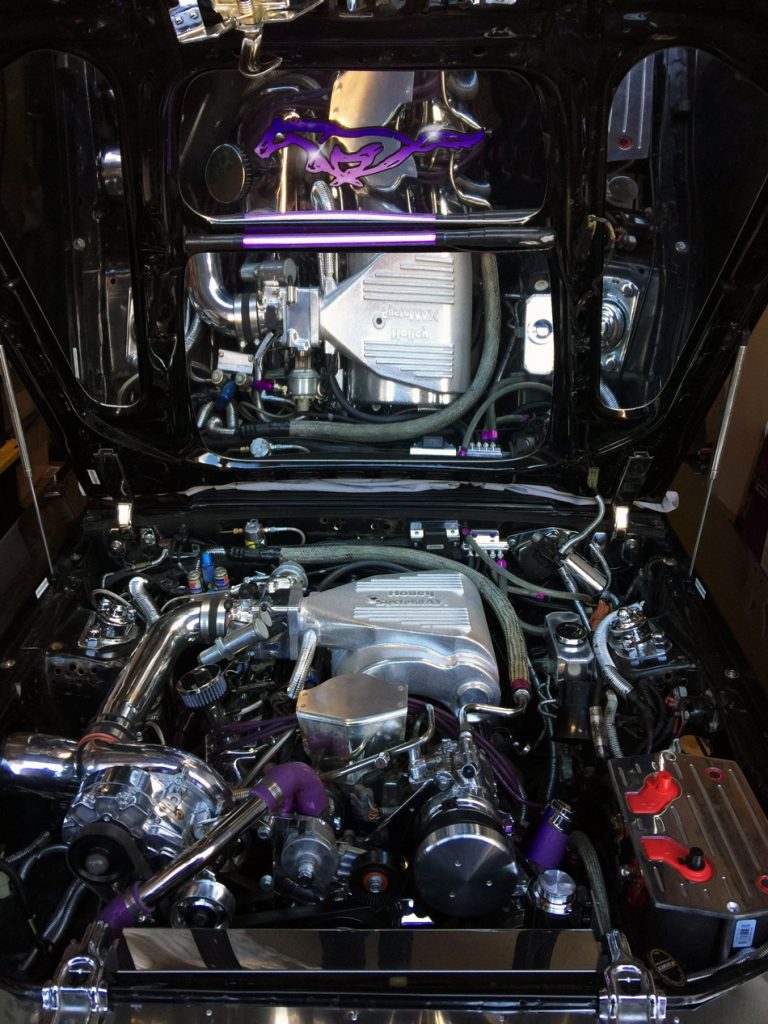 This hatch comes with a full custom interior with purple SCHROTH harnesses. Factory seats have light gray vinyl with suede inserts and purple stitching, Custom built and chromed 4-point roll bar. Auto Meter gauges and tach w/ shift light and Pro 5.0 shifter. The sound system consists of a 7" Flip-out Planet Audio deck, JBL 10" subwoofer, INK 6 ½ component speakers, 5×7" 2-way rear speakers powered from an INK 500-watt 5 channel amp.