Yes, the fox Mustang had it's own "Yenko" type special editions, well one stands out in the fox Mustang world anyway. There seems to be a lot more dealership modified Mustangs (even if some are just decals) than I originally thought. Please leave a comment if I left one out. This is part 3 of 3 of the special edition fox Mustangs, if you haven't seen the first one, check out the factory special edition fox Mustangs.
Dominator
Summit Ford in Lee's Summit, Missouri had created maybe the first tuner fox Mustang with the 1982 Dominator GT (produced up to 1991). These ultra-rare fox body Mustangs were sold in three stages with modifications ranging from functional hood scoops, Hooker long-tube headers, Motorcraft ignition boxes, 140mph speedometers, 3.08 to 4.10 gears and Dominator decals.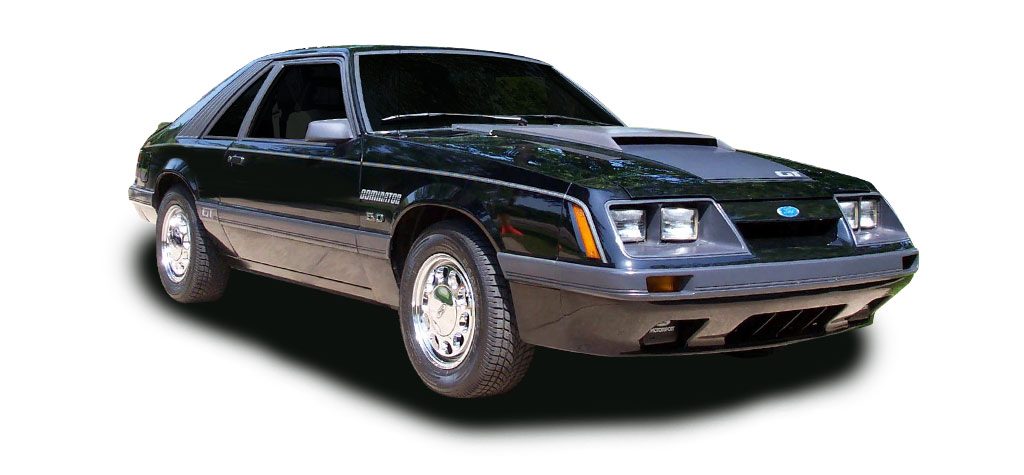 "Foot through the floorboard – clear into the carb looking for more horses, but when the dust clears you see something you've never seen before, taillights, in your face Jack! You've just been dominated!" Radio advert snippet!
Some Dominators (most likely Stage III) had engines built by Anderson Racing Inc with forged TRW pistons, Moly rings clevite bearings, a solid camshaft, larger valves & springs, etc… The beefed up 302 was a $6,500 option, out of the box, these specially made Dominators, really did dominate the track and could run 12's on street tires! 
Twister II
The year 1985 marked the 15th anniversary of the Mustang Twister Special. Dealers in the Kansas City area purchased 90 GT's in hatchback and convertible to add the special Twister II commemorative decals as part of a "Twister II" promotion. These fox Mustangs did not have any modifications.
M-25 Mustang Edition
In 1989 The Bob Allen Ford dealership in Overland Park, Kansas created its own 25th anniversary Mustang because of Ford's plan to not really celebrate the Mustang's 25th birthday. They called it the M-25. This special edition started with a 5.0L/ 5-speed and had a Saleen rear spoiler, a 140mph speedometer, black 5-spoke wheels and a Saleen strut tower brace. The M-25's had a classic pony emblem and the "M-25" markings where the 5.0 badge was. It also had a special plaque on the console.
What to Read Next
This was part 3 of 3 of the special edition fox body Mustang articles. If you haven't already checked the following pages out, please have a look:
Part 3 – Dealership edition fox Mustangs