Purchased brand new back in December of 1988 as Randy's wife's daily driver. The 88 GT was parked in 1991 when they got a more modern or comfortable car to daily drive. This fox Mustang is in Randy's family and will always remain.
The 5.0's bottom end is stock and has 132k miles on it. It's never been out of the car. The heads are Edelbrock Performer RPM's with 1.6rr's. The cam is a Trick flow Stage 1. The intake is a Holley Systemax with a 1/2″ spacer and a custom Ford Logo plate Randy had created. The blower is a Paxton Novi 1000 with a UPR Boostmaster powerpipe. It has a 3″ upper and 7″ crankpulley resulting in 13pounds of boost at 6000rpm. To cool down the intake temps Randy added an Anderson Ford Mr. Freeze Water/Methanol injection kit. The exhaust consists of Ford Racing ceramic coated headers, UPR offroad X-pipe backed by a Dynomax Ultraflo catback. All this resulted in 518rwhp and 465rwtq on a Dynojet. The drivetrain consists of a Anderson Ford stage 4 performance clutch, Tremec 3550 with FRPP aluminum driveshaft. The stock rearend has been rebuilt with 3.73 gears.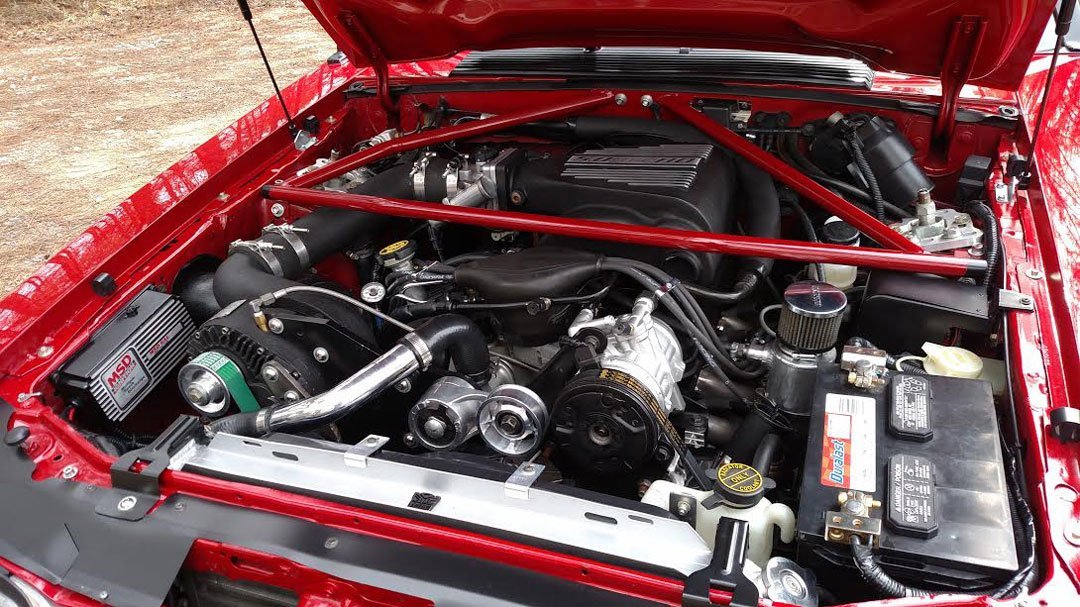 The interior has been well kept all its life. Over the years Randy replaced or restored things as needed. The carpet and seat covers are new from TMI. Randy upgraded the stock 85mph guage cluster to a 140mph unit. Although not a fan of added gauges Randy has the mandatory Bosch vacuum/boost gauge in a single pod on the window pillar.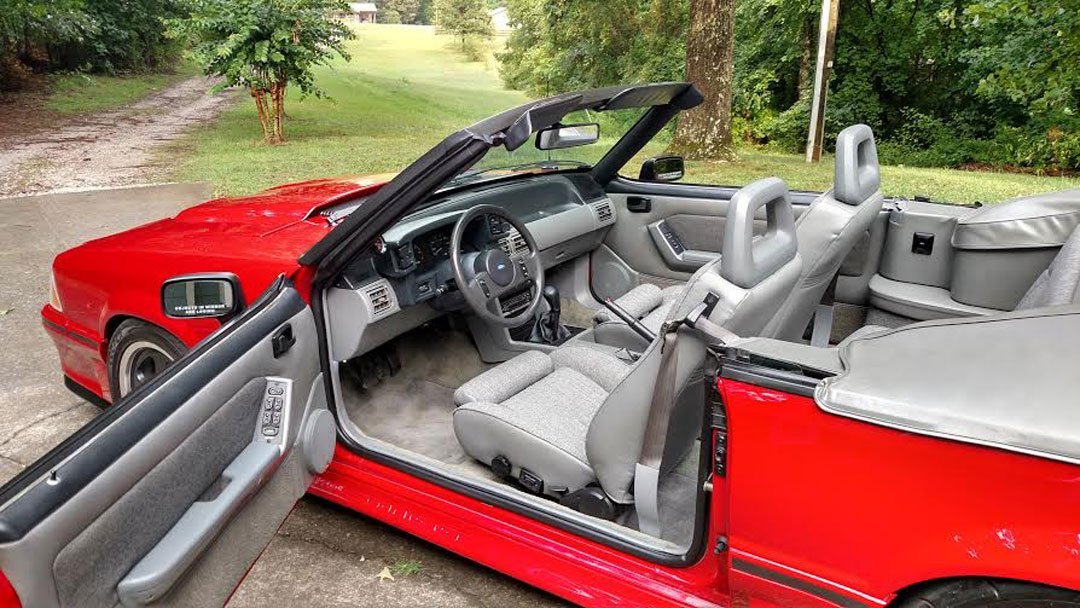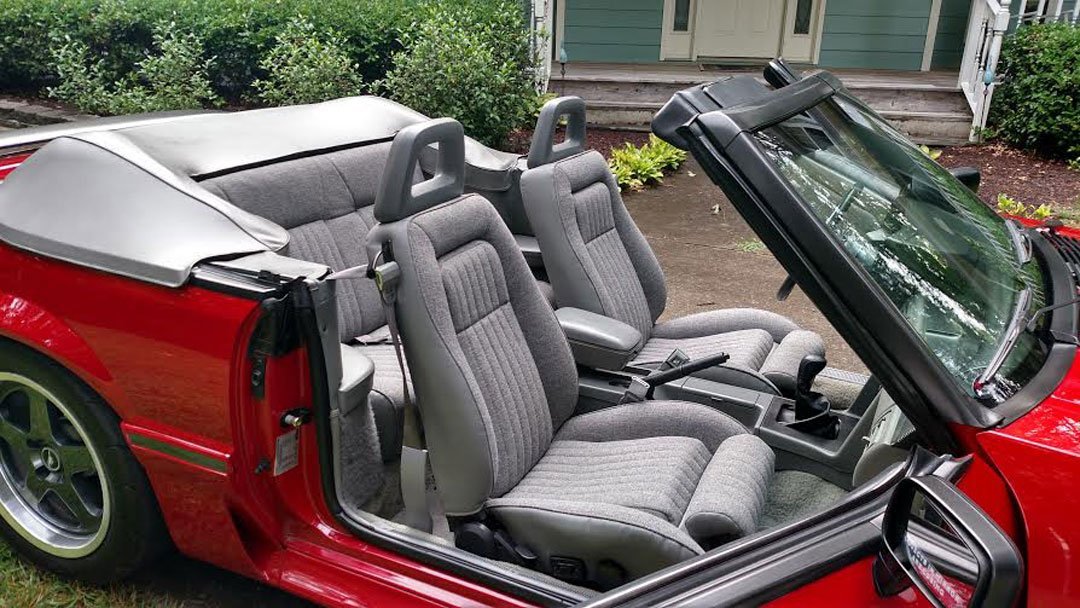 In 2003 Randy decided it was time to take the car apart and repaint it. The car was still basically stock and the OEM paint still looked pretty good but was tired and dull. While doing that Randy dressed things up by adding a Kanaen hood, a '93 cobra style rear bumper cover and a Summer Edition style wing (painted it black to mimic the original luggage rack spoiler) for a cleaner more subtle appearance. Randy did some tweaks like the faux carbon fiber strip on the belt mold, customized Cheesegrator tailights, deleted fog light assembly to lighten up the front end and give the car a more racy appearance. He also added a '93 Cobra style grill insert and a lower lip from All-Fit Automotive to give it a lower look.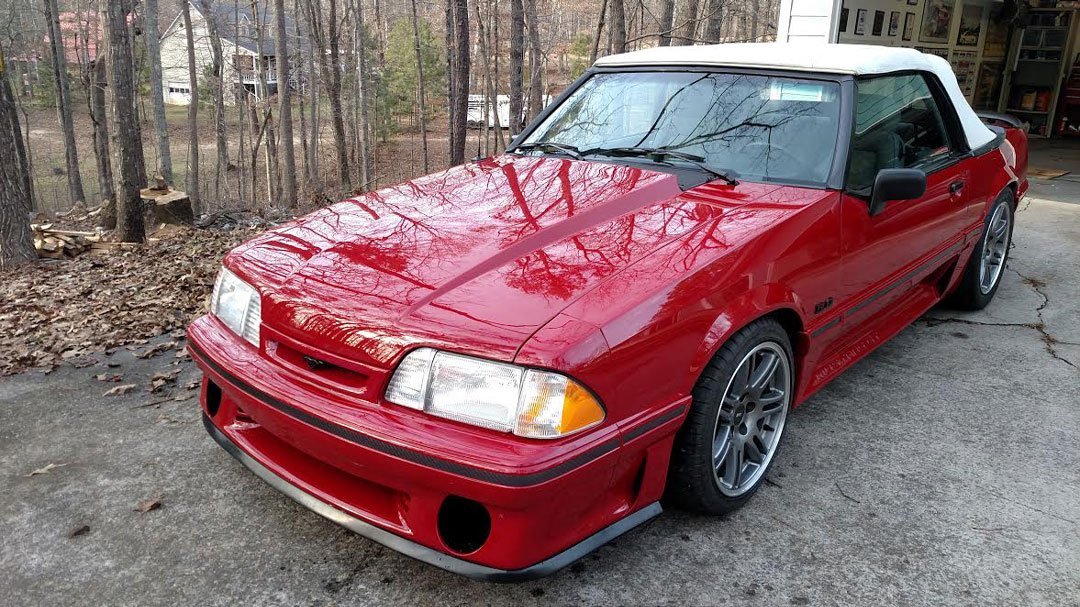 The Springs are Saleen Racecraft with a 1/2 coil removed up front. The shocks and struts are KYB AGX adjustables. The rear control arms consist of Maximum Motorsport adjustable lowers and BBK Gripp uppers.Randy has Cobra brakes with drilled/slotted rotors up front. The rear brakes are SN95 5lug disks. The wheels are restored 2003 SVT anniversary Cobra wheels. This fox is equipped with 245/40 tires up front and 275/40 Mickey Thompson drag radials out back.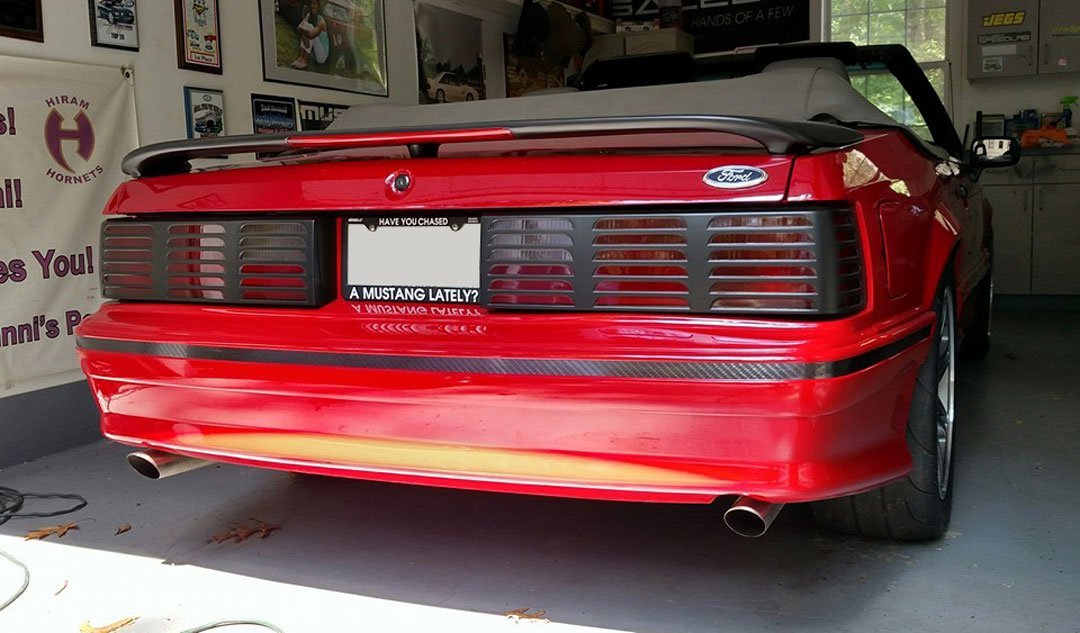 Beautiful fox-body convertible, thank you Randy for sharing your fox with FoxStang.com