The foxbody Mustang was recognised by racing enthusiasts as it was a lightweight RWD chassis with 4 link rear suspension and simple platform to work on. The fox Mustang got the full treatment by some knowledgeable and talented people like Steve Saleen. Here's part 2 of 3 of the complete special edition fox Mustangs. Go to part 1, if you haven't read it yet. 
Predator GT302
Tom Solomon who was part of the original Shelby and Cobra design teams influenced Ford to allow him to create a Shelby'ish Fox Mustang. In 1983 the first Predator GT302 Mustang was born with only up to 8 cars sold. The sales numbers the following year increased to 130 units. Authentic Predator GT302s will have a riveted plate on the inner fender next to the strut tower.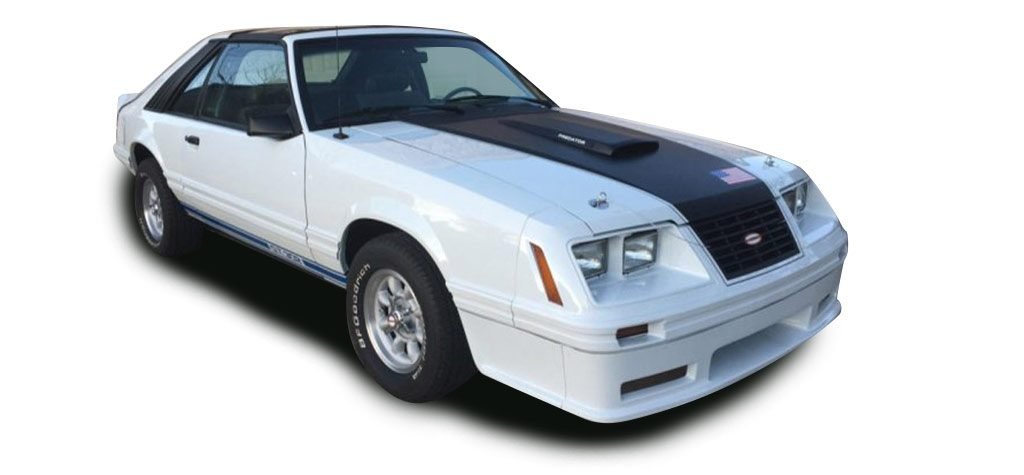 A press release from 1984 reads: Four-place fastback coupe; Solomon American dressed 302 cubic inch OHV Predator V8 engine including free flow high performance air cleaner, finned Predator aluminum valve covers; for barrel carburetor; fully synchronized Borg-Warner 5 speed transmission; computer designed competition suspension geometry; one inch diameter front anti-roll bar; fully stabilized torque controlled rear axle; wide base aluminum wheels mounted with radial design performance tires; familiar-designed functional hood air scoop; charcoal or red interior with bucket type seats; 4 point tubular steel show bar; two speed electric windshield wipers and washers; 15.1:1 power assisted rack and pinion steering; competition type locking studs and safety pins; rocker panel identification stripes, high speed front and rear air dam and spoilers; 3-bar chrome "knock-off" type wheel centers, aluminum rear sport shades, reinforcement inner fender; collector's data plate as limited production. Horsepower and torque specifications are listed as 223HP/287lb-ft and cost was $12,100. Available in white, black, gray, red, copper, charcoal and maroon.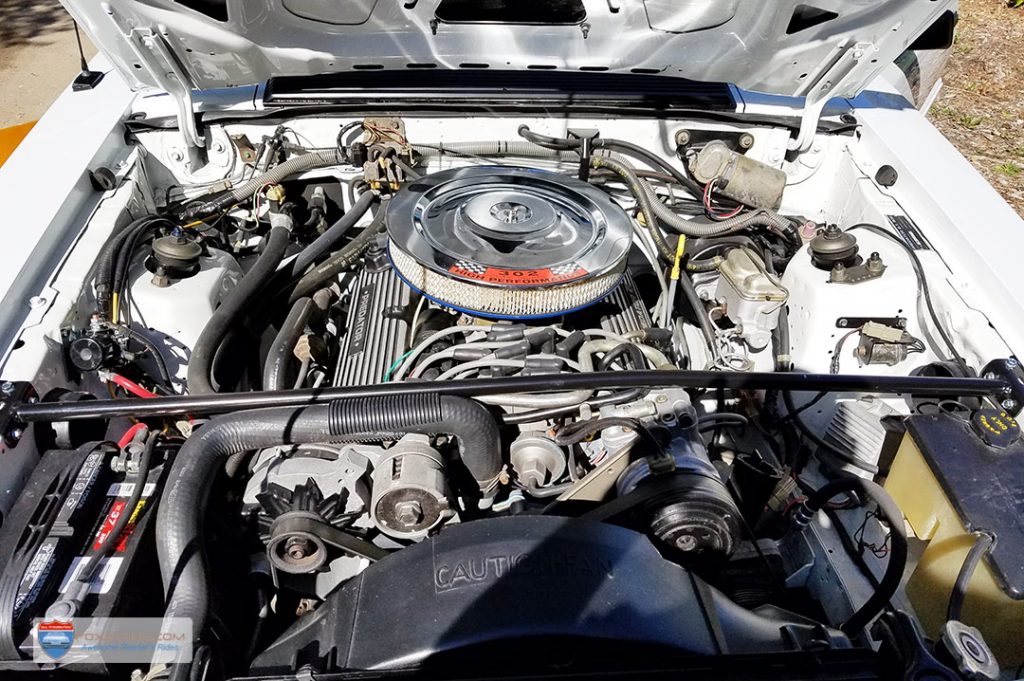 Along with the GT302, Solomon also had a GT302H, duplicating the Hertz Mustang in black with gold stripes. Even more interesting is the GT302R, only 6 convertibles were produced in 85 and included a fiberglass scooped hood, under-drive pulleys and 3.73 or 4.10 gears, headers, larger carburetors, cam upgrades, etc…
In 86, the Fox Mustang was coming into its own with factory upgrades like EFI and 8.8 rear-end. There were only 23 Predator GT302's built in its last year run. Full article on the Predator here >
The Saleen Fox Mustangs
In 1983 Saleen Autosport is formed by racing driver Steve Saleen and the company introduces its first limited-edition, high-performance street car in 1984. Only 3 were made for that year. The original Saleen Mustang only received interior, exterior, brake and suspension modifications making the fox Mustang more accepting of hard cornering. Some of these also came with radar-detectors!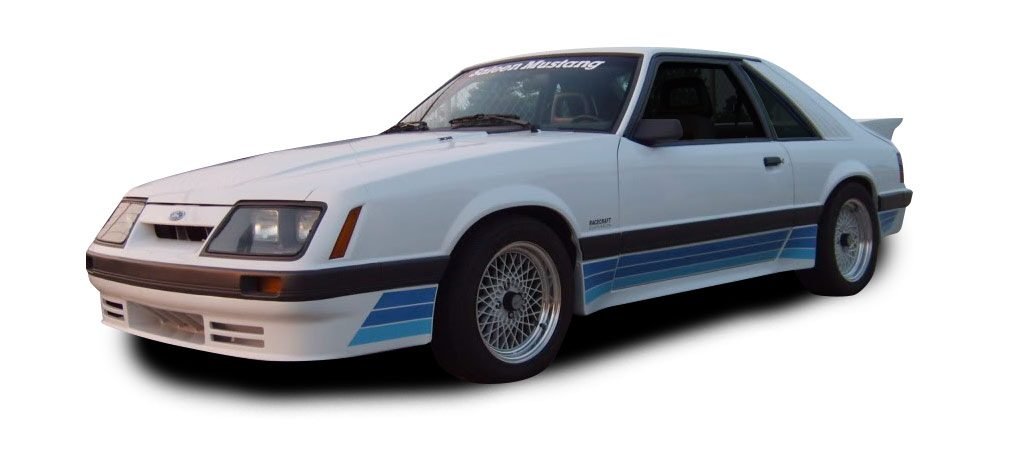 In '86 Saleen entered the Sport Car Club of America (SCCA) race series with a special race-prepped version of the fox Saleen Mustang. They had a remarkable win that year at the 24 hours of Mospart and that was the jump-start for Saleen becoming heavily involved in racing throughout the rest of the 80's and 90's.
In 1989 Saleen Autosports developed the SSC model. The Mustang Saleen SSC started its life as an LX hatchback with modified 5.0 (first time for Saleen to modify the engine) that produced 292HP. This Saleen sounded sweet with stainless-steel tubular headers and Walker Dynomax mufflers. All the SSC models came in white with yellow and gray chevron stripes.
1993 Saleen RRR. This special edition Saleen was custom built by Steve for Home Improvement's (90's sitcom) Tim Allen. The RRR Saleen Mustang was equipped with a Vortech Supercharger and other mods to pump out a wild 576HP! Other custom touches included a carbon fiber hood, Thunderbird headlights, sleeper-hidden 6-point roll cage and a tool bag for the "tool man".
84 to 93 Saleen Production Numbers:
2158 hatchbacks
478 convertibles
67 notchbacks
DECH Mustang
Maple syrup, igloos, polite people and a serious competitor to Saleen – all things Canadian. In 1985, Derek Hanson (a former F1 driver) set out to provide an affordable high-performance vehicle for racing enthusiasts. Derek choose the fox body Mustang because it was durable, light and high value – an ideal candidate for Derek's suspension tuning ability.
DECH set out to analyse all the performance parameters of the Mustang, and evaluate which modifications would create a desired level of handling necessary to outperform everything else. Designing and testing numerous types of coil springs and Koni struts & shocks, the net result was a car that could lap the track with ease and still behave when simply cruising on public roads. The early DECH Mustangs were custom built to owner specifications, and came with a base horsepower rating of 240 HP, many were destined for S.C.C.A. roadcourse events.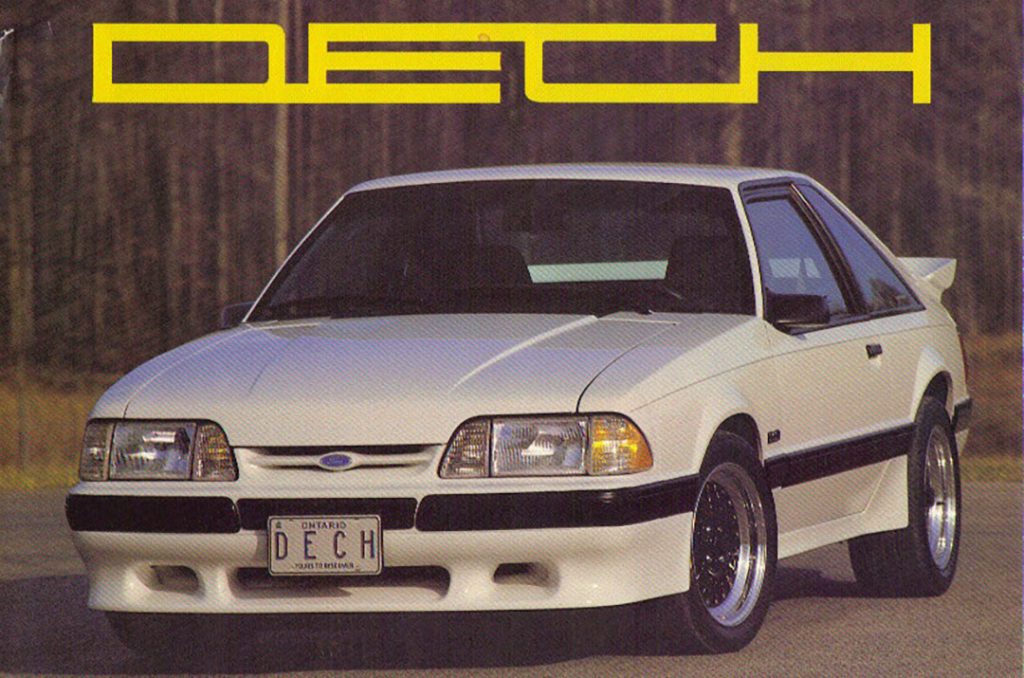 Continuous R&D led the team at DECH to development of their products such as the Speeddrive Springs, Grabber suspension brackets, Strut tower mount bearing assemblies, Lower chassis stiffening members, and the DECH ASG rear suspension system, along with their own front disc braking system! DECH provided four stages of suspension improvements using their series of handling and stiffening products. Below is the ASG system:

DECH invested in designing with wind tunnel testing and producing their own aerodynamics system. The design alone would set the DECH Mustangs apart from other cars but under the surface is what would create a cult stature in the performance automotive world.
DECH's philosophy was "less is more". By allowing the Mustang to work as it was designed, the development team didn't have to re-balance the fox body for every tiny change. This allowed DECH to produce the highest quality product while controlling the costs. The DECH Mustangs were between 26 to $29,000USD, serviceable by Ford dealerships and completely emissions legal. The DECH Mustangs became very popular on the S.C.C.A circuits in North America.
Roush Prototype 351 Twin turbo
In 1988 Roush was commissioned by SVO to build a ZR-1 killer. Rumour had it, that Chevrolet was going to release a ZR-1 corvette for around $60,000. SVO wanted a Mustang that for half the price could wipe the floor with the Corvette ZR-1 and be the Mustang's 25th Anniversary.
The prototype had a twin turbo 351 (5.8L) Windsor small block engine with conservative estimates nearing 400HP. It was planned to have a T-56 transmission to handle the extra power.
Even with all of SVO's chassis modifications to stiffen up the fox body Mustang, the chassis had twisted, the doors didn't fit right. Clearly not ready for all that power and that's one of the reasons why the prototype is sitting at the Roush Museum and not slated for production.
Mustang ASC McLaren
In 1982, Peter Muscat (an engineer) converted a 1980 Mustang coupe into a 2 seater convertible. Keep in mind that there was no convertible fox Mustang until 1983. Inspired by his wife, a Ford employee, who wasn't allowed to park her Mercedes SL at the Ford parking lot. His modified fox body, which mirrored the Mercedes SL of the time, was shown to Ford and his idea was picked up by the Mercury division being that the Mustang convertible was already in development (excluding the Capri). The result was a car that was more expensive than a Mustang GT, and coupled with declining sales of the Capri overall, the car was discontinued in 1986, making room for the ASC McLaren Mustang.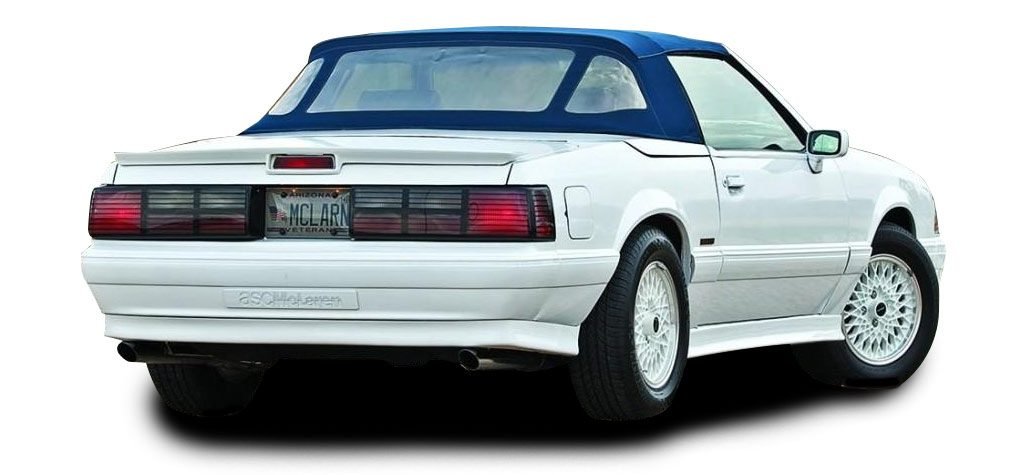 Ford invited Muscat and ASC to modify the 87 Mustang. With complete backing from Ford including full factory warranty, some advertising and a rebate program to help fuel sales. The ASC Mustang was discontinued in 1990 after disputes between Muscat and ASC.
What to Read Next
This was part 3 of 3 of the special edition fox body Mustang articles. Next up is part 3 of 3 where we discuss the cool dealership editions of the fox Mustang. If you haven't already checked the following pages out, please have a look:
Part 2 – Tuners like Saleen and DECH