The 14 year run of the fox body Mustang gave us some pretty sweet tuner and factory special-edition Mustangs. The 3rd gen fox Mustang gave us a lot more options than we often think. Let's start with what FoMoCo offered us fox body enthusiasts from 1979 to 1993, SVO and SVT included. Please enjoy this 3 part series of the special edition fox body Mustangs!
1979 Pace Car
The 79 Mustang was selected to be the pace car for the 63rd Indy 500, the first time since 1965. Only three identical fox Mustangs were created for track duty but Ford sold replicas in a wide range of options. Although the real Pace Cars were fitted with modified 302's by Roush Industries. The three foxes used at Indy had a 5.0 with 351w heads, Boss 302 cam and connecting rods and TRW pistons. The warmed-up engine backed by a modified C4.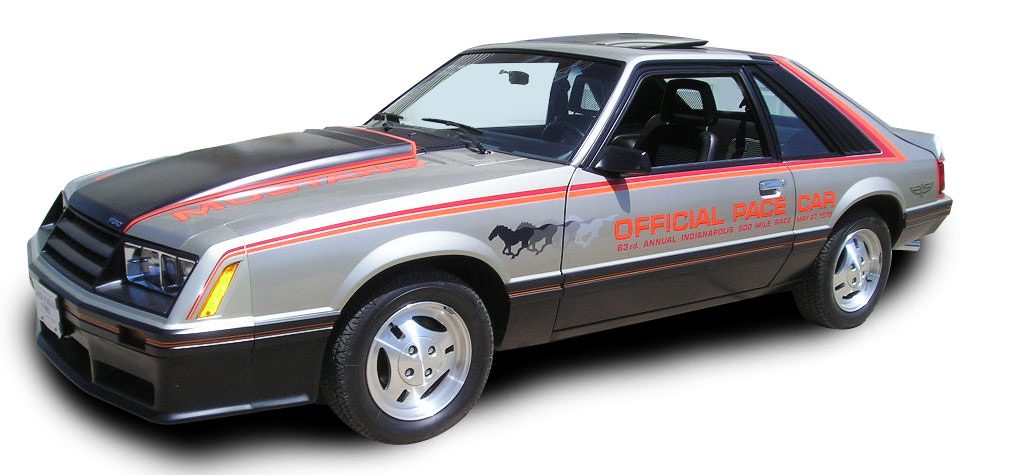 Pace Car production numbers:
2402 – 5.0L w/SROD 4spd manual
2106 – 5.0L w/C-4 automatic
5970 – 2.3L Turbo 4cyl w/4spd manual
You can tell you have a real pace car by checking things like the wiring harness upfront since the pace car had fog lights while no other 79 had them. The seat belts will be tagged "Firestone" under the buckles and all pace cars have the number "48" in the VIN.
1979-1980 Cobra
This fox Mustang Cobra was equipped with either a 140HP 5.0L V8 (or the 119hp 4.2 in 1980) or the Turbo 2.3L which produced an impressive 132HP at the time. The Cobra was an appearance package with it's aggressive hood graphic.
1982 Mustang GT
The GT has been in hiatus since 1969 and reintroduced in 1982 with the slogan "The Boss is back". This new fox body GT Mustang was equipped with a warmed up 5.0L (80 and 81 only had a 4.2L V8). The '82 Mustang GT is significant in fox history because it really inspired the performance world which had been dormant during the oil crises of the '70s. The 82 GT was to be an image leader!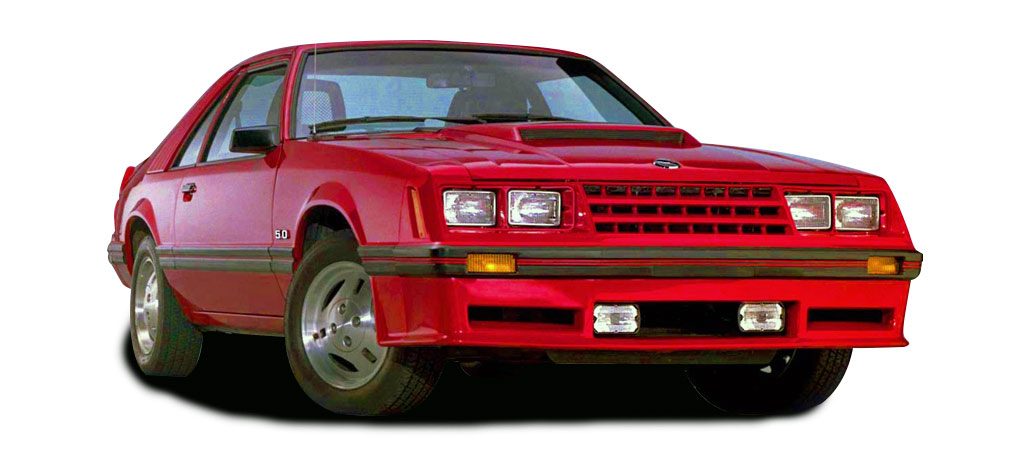 The warmed up 5.0 was a product of Jim Clarke who realized the Mustang needed a performance option! This 82 5.0 was equipped with a Ford Torino cam (after looting the parts bin, playing with things like the marine cam) and a 4-barrel. The renewed 5.0 pushed out 157HP, which doesn't sound like a lot today, keep in mind the 302 is a torque monster and the previous "V8" spit out  111 to 119HP. Not to mention the fox being 400 pounds lighter than GM's pony car!
The Mustang GT package offered a 4-speed manual, 3.08 gears, and Trac-Lok. The GT had a very aggressive front grille, forward-facing hood scoop and a sleek spoiler/splitter borrowed from the pace car. There were 35,435 total GT's produced in 82.
The SSP/CHP Mustangs
"This Ford Chassis Porches for a Living"
Because "America's Heartbeat" had a heart attack when it was needed to protect civilians, the Ford Mustang took the reigns as service vehicles starting in 1982. Camaros had powertrain issues, something about self-dissolving cams in their 305's? The California Highway Patrol first received a little over 400 pursuit Fox-based Mustangs in 1982. These GL coupes were equipped with the GT's 157HP 5.0, 4-speed transmission and 3.08 gears. The SSP Mustangs were a true testament to the toughness of the little 302 Windsor block.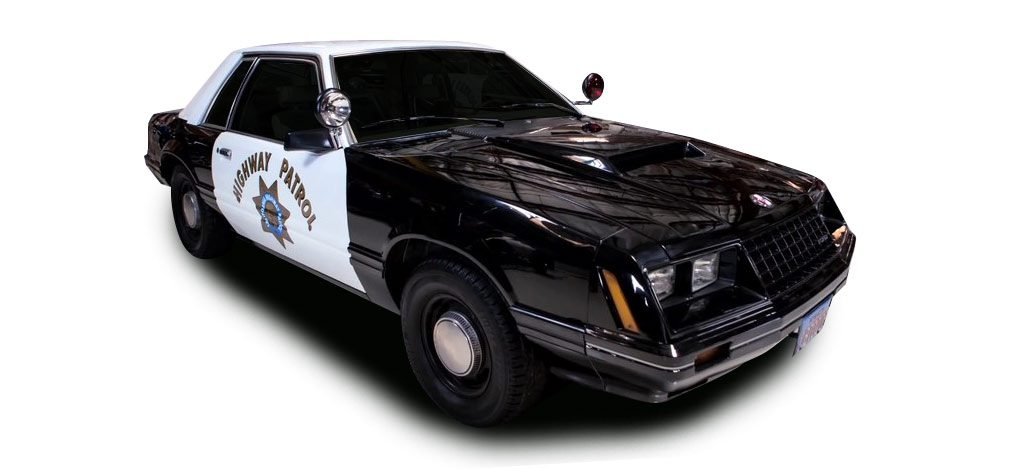 The fox body Mustang SSP vehicles were cheaper than the full-size sedans and got to speed a "helluva" lot faster to help catch the bad guys [especially if the bad guys drove a Camaro]. They say over 15,000 Mustangs were produced with the SSP option. Only 5 or so hatchbacks were produced for the California Highway Patrol.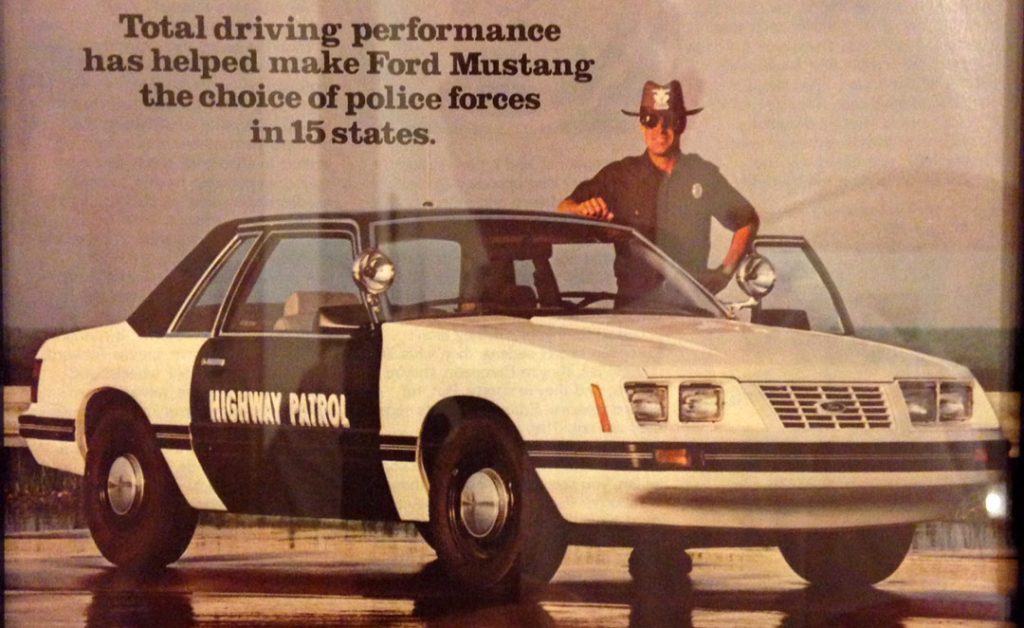 Specifications changed throughout the years but most had the following:
Engine oil cooler
Silicone radiator hoses and aircraft-style clamps
Auto transmission fluid cooler
130 and 135 amp internally and externally regulated heavy-duty alternators
Two-piece VASCAR speedometer cable
Certified calibrated speedometers 140 mph (160 for '90+)
Non-operational courtesy lights (safety feature)
Relocated rear deck release
Single key locking doors/trunk
Reinforced floor pans
Full-size spare tire
In 1988, the Oregon State Police had 34 coupes ordered through Damerow Ford in Beaverton, OR. The order subsequently got canceled, and the dealer was left with 34 unsold cars! As you can imagine, this is not a good situation for any auto dealer, and they scrambled to find a solution. There was also a Saleen connection: In 1988 an order of 34 coupes got canceled so Saleen Autosports converted 17 of those to their specifications. Instead of life catching speeders, these coupes were probably chased down by their brothers at some point.
GT350 Anniversary
For the 20th Mustang anniversary Ford was focusing mostly on Escorts, Tempos, and Rangers but Edsel, being a performance enthusiast, put the Mustang on the product planning table for 1984.
Ford built a limited 5,261 GT350 convertibles and hatchbacks which came with either a 2.3 or one of two 5.0 V8s. The automatics got the 165HP CFI 5.0 while the 5-speed got the more powerful 175HP carbureted 5.0. Cosmetically these 20th-anniversary Mustangs came in Oxford White with dark red interiors, fog lights, special decals, bumper striping, and a front air dam.

They also received the TRX handling package which improved on the GT's stock suspension. Really the only significant performance improvement over the regular Mustangs of the era. It's a shame Ford didn't ask Roush or something to up-the-ante a little on the stock 5.0 to signal a few more similarities to the original GT350 which was a true road-n-track Mustang.
SVO Mustang
Ford's SVO (Special Vehicle Operations) Mustang was deeply rooted in racing, in 1980 it was announced that Ford was creating the SVO division and the thinking was to first create a series of limited production performance cars. A Mustang IMSA (International Motor Sports Association) concept was born powered by a highly modified turbo four. That turbo four was rumored to have 175HP at 10psi of boost. Keep in mind that the production V8 at the time in a Mustang had 111-119HP!
In 1982 a few SVO prototypes were developed from Mustangs with the help of Jack Roush prepping the engines to compete in the 24-hour road race which, in 1983 the SVO Mustang finished 2nd at the Grand Touring Race at Nelson Ledges.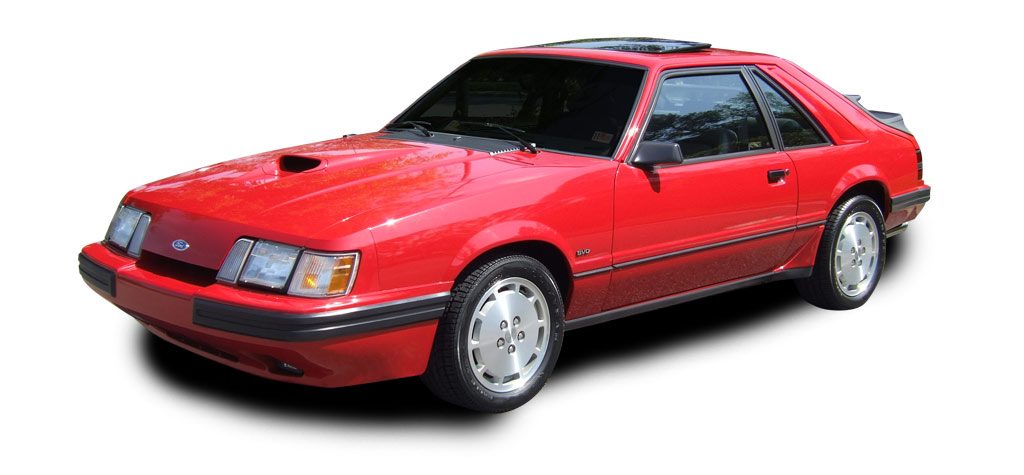 In 1984 the first production SVO Mustang hit the market. The turbo 2.3 produced more power than its 5.0 counterpart with up to 200HP! The SVO also had several improvements over the standard Mustang such as a modified front suspension geometry, a 15:1 ratio rack-and-pinion steering, 3.45 to 3.75 Trac-Lok axles, 4 wheel disc brakes and other performance improvements such as different pedals to help with heel/toe shifting. The emphasis on the SVO has always been on handling. There was a total of 9,502 units from 84 to 86 with only 427 made for 1985.5 year.
7Up 'Vert
The 7Up Convertible was supposed to be a very limited production run (of 30) for the 1990 NCAA basketball finals. Imagine being able to win a 1-of-30 Mustang convertible by sinking a ball from center court? Unfortunately, the contest was canceled but Ford produced 5,000 units (only 1,360 were manual) and offered them as a special edition for the 25th anniversary.

These special edition convertibles were painted deep emerald green, had a white leather interior and white convertible top and featured the GT's 15" turbine wheels.
Feature Cars
Near the end of the 14-year fox body run, sales were tanking fast. Ford had to think fast to develop a visual package to draw buyers to showrooms. So Ford had created "Feature Mustangs" and offered some unique cosmetic options.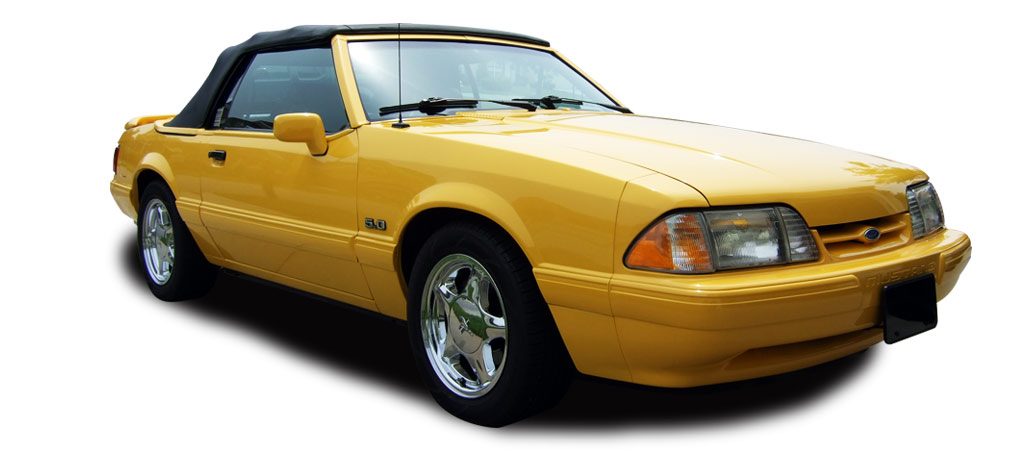 Some of the differences that made these Mustangs "Feature Cars":
Vibrant white or Canary yellow exterior with color-matched mirrors and trim.
White or black leather interior, the white interiors where entirely white and black.
White tops on white cars, white or black tops on yellow cars.
Luggage rack replaced with a spoiler.
White or chrome 16" pony wheels
Running horse emblem embroidered into the floor mats.
SVT's 1993 Cobra
The 93 SVT Cobra was the premier vehicle of Ford's new SVT (Special Vehicle Team) division. The 93 Mustang was created with; performance, substance, exclusivity, and value in mind (SVT's four hallmarks). The 93 Cobra's 5.0 with GT40 heads, GT40 intake, 65mm throttle body, 24# injectors, F3Ze cam, etc… produced 235HP, compared to the standard 215 at the time. It's suspected that the Cobra was under-rated, it was more than likely closer to 250-260HP and a beefed-up T5 with phosphate coated gears and stronger bearings. The suspension was tuned, notably the small front sway bar and softer springs up front and the 4cylinder springs in the back. The Cobra was equipped with 10.07" vented rear discs versus drums. These Mustangs were fitted with 245/45ZR17 tires.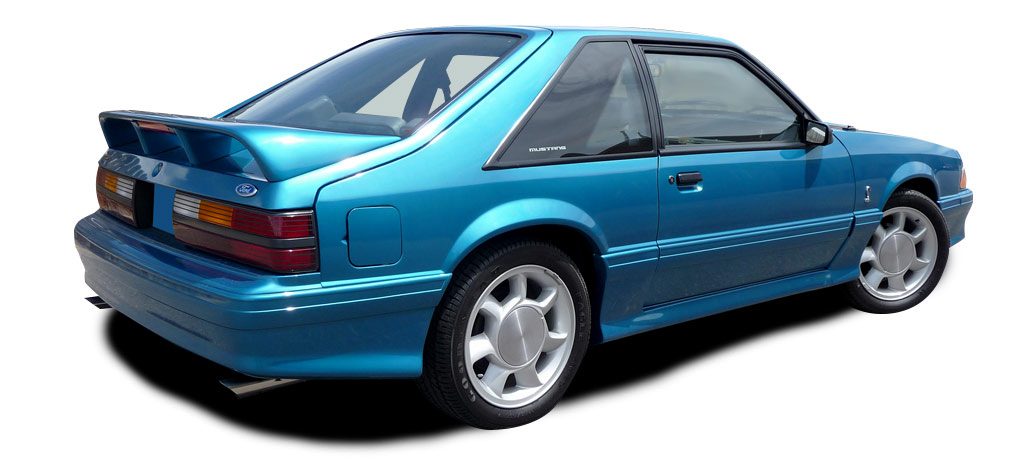 Production Numbers:
1,854 Black
1,882 Vibrant Red Clearcoat
9 Vibrant Red
1,355 Teal
SVT also pumped out 107 vibrant red Cobra-R's which have factory weight savings with deleted fog lights, no AC, manual windows, manual mirrors, and door locks, no sound deadener or undercoating and a rear seat delete.
What to Read Next
This was part 3 of the special edition fox body Mustang articles. Up next is all about the tuner fox Mustangs such as Saleen, DECH, ASC, etc… Continue reading about the special edition fox Mustangs >
Part 1 – Factory made special edition fox Mustangs