Not really uncharted territory anymore but for die-hard blue-blooded Windsor fanatic Ford guys (like me), this topic is a tad cringe-worthy. But I decided to put my own reservations aside and used logic and science to get to the bottom of this LS swap Foxbody Mustang stuff. Heads up: This is a topic for adults, both sides can't seem to have discussions without resorting to childish memes. I'm just trying to research and build valid arguments. 
First, What is an LS?
If you haven't heard about LS engines, for real? You haven't? GM started with a clean sheet of paper (and copied Ford? More on that later…) and redid their V8 designs from ground-up back in 1995. Most are cast iron blocks while performance versions are all aluminum with cast-iron cylinder liners. Keep in mind that there a TON of different LS engines and variances, it's almost mind-blowing. All LS engines mostly share the same traits though, such as:
4.40" bore centers
6 bolt main bearing caps
9.24" deck height
4 bolt per cylinder head bolt pattern
Distributorless (coil-near-plug) ignition system
Flame-war-mongering on Ford Mustang message boards
The 3rd generation began in 1997 with the Corvette's 5.7L LS1, yes the original LS1! The Gen III LS was the first time GM used an aluminum block for a mass-produced pushrod V8. The 4th generation LS kicked off in 2005 with the C6 Corvette as a 6.0L LS2 and a year later they threw an impressive 7.0L LS7 into a Z06 'vette.
Most people will get a 4.8 or 5.3L engine out of a truck for their swaps as they are plentiful and pretty cheap to buy at local salvage yards,  keep in mind that they were known as "Vortec" engines (although prices have been going up since everyone and their mom are doing LS swaps in their classic cars). It's mostly recommended to get the 6.0 or 6.2L  if you're going through the trouble.

LS specs and applications for your LS swap fox
Although not a definitive guide to junkyard LS engines, it gives a general idea of HP ratings and where to find them:
| LS Version | Years | Liters | Cubes | Gen | HP | Torque | Block | Examples of where to find |
| --- | --- | --- | --- | --- | --- | --- | --- | --- |
| LS1 | 1997-2004 | 5.7L | 346 | III | 350 | 365 | Aluminum | 97-04 Corvette, 98-02 F-body, 04 GTO, 04 SSR |
| LS2 | 2005-2009 | 6.0L | 364 | IV | 400 | 400 | Aluminum | 05-07 Corvette, 05-06 SSR, 06-09 Trailblazer SS, 06-07 Cadillac CTS, 05-06 GTO |
| LS3 | 2007+ | 6.2L | 376 | IV | 430 | 424 | Aluminum | 08-13 Corvette, 10-15 Camaro SS, 09 Pontiac G8 GXP |
| LS6 | 2001-2005 | 5.7L | 346 | III | 405 | 400 | Aluminum | 01-04 Corvette Z06, 04-05 Cadillac CTS |
| LS7 | 2006-2011 | 7.0L | 427 | IV | 505 | 470 | Aluminum | 06-13 Corvette Z06, 14-15 Camaro Z28 |
| LS9 SC | 2009+ | 6.2L | 376 | IV | 638 | 604 | Aluminum | 09-13 Corvette ZR1 |
| LSA SC | 2009+ | 6.2L | 376 | IV | 556 | 551 | Aluminum | 90-15 Caddilac CTS-V, 12-15 Camaro ZL1 |
| Vortec 4800 | 1999+ | 4.8L | 293 | III / IV | 255 to 295 | 285 to 305 | Iron or Aluminum | 03-06 GMC Savana, 99-06 Silverado, 00-06 Tahoe/Yukon |
| Vortec 5300 | 1999+ | 5.3L | 325 | III / IV | 270 to 350 | 315 to 347 | Iron or Aluminum | 02-05 Escalade, 02-07 Avalanche, 03-07 Savana, 99-07 Silverado, 00-06 Suburban |
| Vortec 6000 | 2000+ | 6.0L | 364 | III | 300 to 345 | 360 to 380 | Iron | 02-06 Escalade, 03-07 Silverado |
| Vortec 6200 | 2006+ | 6.2L | 376 | IV | 403 | 417 | Iron | 07-13 Escalade, 08-09 Tahoe, 07-13 Sierra, 08-09 H2 |
"The LS is the next-gen Windsor SBF?"
NO! There's no proof that a Ford engineer wondered over to GM to build a "next-gen Ford pushrod". The internet is great at spreading rumors but there "could" be a little bit of Ford DNA in the LS engines – at least if you have a good imagination. The LS heads share some similarities with the Ford-based NASCAR engine heads which are sort of modernized old tunnel port designs from the '60s. Ford decided to improve efficiency with its modular engines, probably in R&D may be as early as the beginning of the '90s.
There's a picture floating around with an SBF with LS heads bolted on. It's NOT a direct fit. Bore spacing is off, deck height is off, cam lobe layout won't work, will need some sort of custom intake manifold, etc… It's certainly not a "bolt-on". Maybe someone made it work for a challenge but it certainly is no "proof" that the LS is a Ford design.
Why folks do this?
What we mostly hear is that an LS swap is cheaper, more powerful and can handle much more power down the road. We've all heard that the 5.0L HO can only handle 500HP before it gets a splitting headache which is having some people look over the fence for another engine platform while keeping with the small packaged pushrod spirit. Although there are plenty of Windsor blocks pushing that limit with a good build and tune and reliably making passes at the track.
Your typical swap is a 5.3L from a Silverado with some miles that will produce around 300 to 350 crank HP. Now swap the stock cam out and put in a set of TEA stage 1 heads and you can get around 430HP… Put some more cash towards this with 4.8L flat-top pistons, TFS GenX 205 heads, bigger cam and now an aftermarket intake, TB, headers… and you're past the 500HP mark NA. You're looking at around $4000+ in new parts, not including labor. With some research you can easily find some 600HP NA recipes for the LS engines, although not cheap at all but certainly (admittedly) impressive. Of course, we won't outline all the recipes here but if you do some research you can swap LS parts around to gain more power on the cheap side too.
LS Swap Cost?
I found this the most difficult to find out. The average cost seems to hang around $4,500 for a "fast as fak" turbo 4.8/5.3 swap but there's such a wide range of options and ways to do this that it's hard to come up with a precise number, some claim to do this for under $2,000. I have a lot of trouble believing some of the "low cost" claims to make this swap work.  Be mindful that there are a lot of parts to get and it's not simply getting a $500 Vortec 4.8L/auto out of a truck and replace the 5.0/T5 combo.
Here's a theoretical exercise to simply put a STOCK 5.3L into a fox body Mustang. We will ignore the cost to mod the 270 to 350HP engine. We all know they are cheap to mod and some versions can handle a lot of power (not ALL LS engines can handle enormous power) without having to visit the machine shop.
Getting the 5.3 to sit in the Fox
The total estimated cost to get the 5.3 LS V8 between the frame rails is just under $1,500. We do not have it running yet, nor do we have exhaust or cooling. If your fox has a cowl hood, you can keep the truck intake and accessories, saving a good amount of money.
| Parts | Average Cost |
| --- | --- |
| 5.3L Vortec and Auto used out of a truck | 500 |
| Car intake/rails | 300 |
| Accessory bracket(s) | 150 |
| Oil pan kit | 230 |
| Power steering pump | 120 |
| 4.6L engine mounts | 50 |
| Pulleys | 40 |
| Alternator | 80 |
| Fabbing motor mounts | FREE (learn to weld dammit) |

Starting it up?
Let's get ready for the "first start" run, other than filling up the garage beer fridge you need to get the fuel system running, cooling and exhaust. The thinking is to use the truck auto transmission and some people managed to make the fox driveshaft work with a different u-joint and yoke but it's best for the worst-case scenario as it really depends on how you place the engine. For this exercise, we're looking into a custom driveshaft. As far as EFI, the best bet is to use a standalone system like Holley as it will allow you to run a stock 5.3 or some monstrous 1200HP turbo'd beast without having to "re-invest" in an EFI system. But that kit is roughly $1,700 so we will re-use the factory harness modified to work (removed VATS, etc…). Our tally to get the engine running is an additional $2,350. For a total of $3,820… We got the new heart started up but we aren't fully out of the woods yet!
| Parts | Cost |
| --- | --- |
| Fbody radiator (new) | 90 |
| Fan assembly (new) | 130 |
| Coolant recovery tank | 20 |
| Hoses and misc things (guessing) | 50 |
| Truck headers | 0 |
| Universal X-pipe kit (+ 2 cats) | 240 |
| Custom exhaust work (cost will vary, I consulted a local shop) | 400 |
| FRPP adjustable cross member | 80 |
| Custom driveshaft | 350 |
| EFI harness | 500 |
| Fuel pump and lines and things | 350 |
| Power steering lines and reducer | 140 |
Total Cost?
In this post, we are just under $4,000 for a stock (up to) 350 crank HP LS engine in a fox body behind a stock automatic transmission. Normally you figure +/- 20% on your budget so be ready to spend a little more. You still don't have a working cluster or shifter for the GM transmission. You could go as fancy as a RacePak (about $900) or use the OBDII port for a cool digital instrument cluster for under $100. The transmission shifter, worst case is about $200.
Making your LS swap a stick car can add more costs. You "could" use a specialized bellhousing that will mate a T5 to the LS at just under $800 (give or take, I'm not sure if you need anything else special) or install a T56 for probably around $2,500 extra. But I don't think it's fair to add this cost to the comparison. Anyone wanting a potential 4 digit HP car won't be using a high-mile T5 between the power plant and slicks…
NOTE: These are costs determined by weeks and weeks of message board creeping, eBay and parts store listings. I'm sure you could find cheaper parts, if you have actual TIPS, please comment below and we'll update this post. 
LS swap links that may or may not help
Keeping the blood blue!

Of course, this website will have to talk about that! It's not overly difficult to keep the SBF platform, for around $5,000 you can opt for a brand NEW 415HP 347! Of course to get these numbers with EFI there will be additional costs, below is a sample chart of some SBF based crate engines that are pretty much a re-and-re (except the 351, it's not a "direct" swap albeit easier than an LS swap).
| Engine | Cost | Liters | Cubes | HP | Torque |
| --- | --- | --- | --- | --- | --- |
| ATK HP79 | $2800 | 5 | 302 | 300 | 336 |
| ATK HP11 | $4200 | 5.8 | 351 | 385 | 410 |
| Blueprint | $3800 | 5 | 306 | 370 | 350 |
| Blueprint | $5000 | 5.6 | 347 | 415 | 415 |

Factory 302?
If all you want is a 300 to 400HP fox, the factory 5.0L HO can get you there on the "cheap" if you're okay with things like pro-comp heads and going carb'd, or adding boost. The SBF has been around for ages, lots of (even used) aftermarket parts out there and there are plenty of magazine articles, youtube channels, blogs, message boards with honest 400HP recipes so it's certainly doable without breaking the bank or having to convert your Fox to use another platform.
Easy Upgrade – 351W
More? Sure!!! You can go to a FoMoCo 351 (5.8L) which can handle 800 to 1000HP (according to some dudes on the internet I've never met). These are plentiful and cheap although pretty anemic on the power side in stock form, up to 290HP (or as low as 140). For a little over $4000 you can get a NEW 385HP crate 351 from Summit racing. These give you extra cubes to work with while not having to cut up your fox Mustang or even change the T5 (although… I mean if you can shift a transmission made of glass).
Other SBF'ish Options
A Dart short block is good, pretty much an unlimited platform for your 1/4 mile wheelie-doing Fox. Or for $12,000 you can get a Roush 450HP 347 crate engine, drop it in and forget it. There are plenty of options. Although not technically a "FoMoCo", it is the SBF "blueprint" that can handle a lot more power and you don't even need to unbolt your K-member. These options are NOT cheap but a new 500HP LS3 crate engine is not free either, $7200 at the time of posting this, not to mention the added costs of doing the swap.
500+HP Modular
You can buy a salvage 03 Cobra for under 10k (at the time of posting this) and can technically convert your Fox drivetrain giving you a sweet-sounding DOHC supercharged engine – I mean that whine is so freaking sweet!! It's not a weekend job but definitely gives a Foxbody a new life with modern FORD drivetrain enhancements. We all know that it's not super hard to get 500+HP out of that modular V8! Plus the added bonus of larger brakes, 5-lug, nicer seats, and possibly IRS for more handling.
When the Fox Coyote?
This is arguably Ford's best V8 to date, has near 450HP out of the box, add 9PSI and get an easy (but expensive) 650HP. Do a search for Coyote Class Fox Mustang for a bunch of ridiculously fast Coyote powered foxes. A Coyote swap isn't cheap but is gaining in popularity and this will help drop the cost over time. Coyote swaps can cost you as "low" as $10,000 or as high as $20,000 depending on the path you take. Again, while reviewing this article, I find some Coyote swaps done for a lot less than 10 grand. Do your research.
Why the Fox Mustang?
The fox platform is a lightweight RWD platform with a ton of aftermarket support as well as being relatively easy to find an affordable (4 banger foxes are still "cheap"). There's no real need to explain why people love the Fox Mustang! 🙂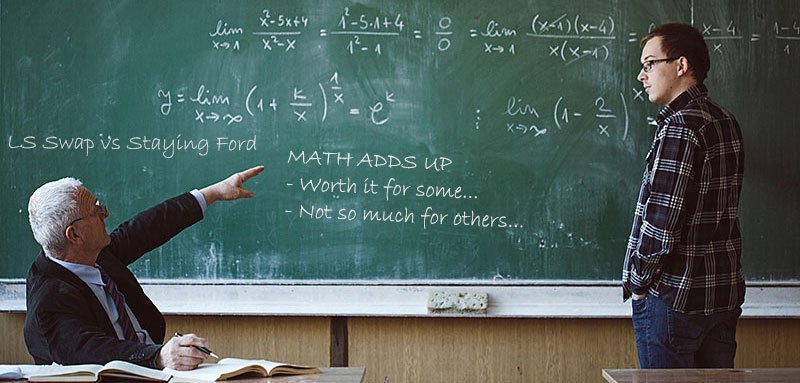 Conclusion?
When I started out, I was as close-minded as could be. But after spending countless hours creeping message boards and learning about the LS power plant, I can see why people are doing this. It may be the most cost-effective way to get to over 1000HP.
However, if all you want out of your fox is 500 or less horsepower, the swap isn't really worth it. The cost of the swap alone will allow your SBF to make the power you want.
I hope this article helped to shed some light on the subject. Not entirely sure why it's such a touchy subject, like politics or religion, cross-bread hotrods have always existed, nothing new. Please comment if you have something meaningful to add.