The early 80's didn't have many options for "tuner" Mustangs. Saleen was just starting up and Carroll Shelby had moved on to tuning front wheel drive cars for Dodge. But there was something called a Predator GT302!
Thankfully someone had a vision to build a "Cobra" Fox Mustang back in '83. Tom Solomon of Solomon American (Topeka, Kansas) who was part of the original Shelby and Cobra Mustang design teams had enough influence with FoMoCo to green-light a new Shelby-style Mustang based on the Fox platform.
First Fox Mustang "Tuner" is Born
This special edition Mustang he called the Predator GT302 (because Ford didn't let him use "Cobra") was accepted by Ford to be a "modifier" and was available at select dealerships. Tom also drove around in a convertible used as a hands-on display when he visited Ford dealerships.  They only sold 5 to 8 Predator GT302's in its debut in 1983.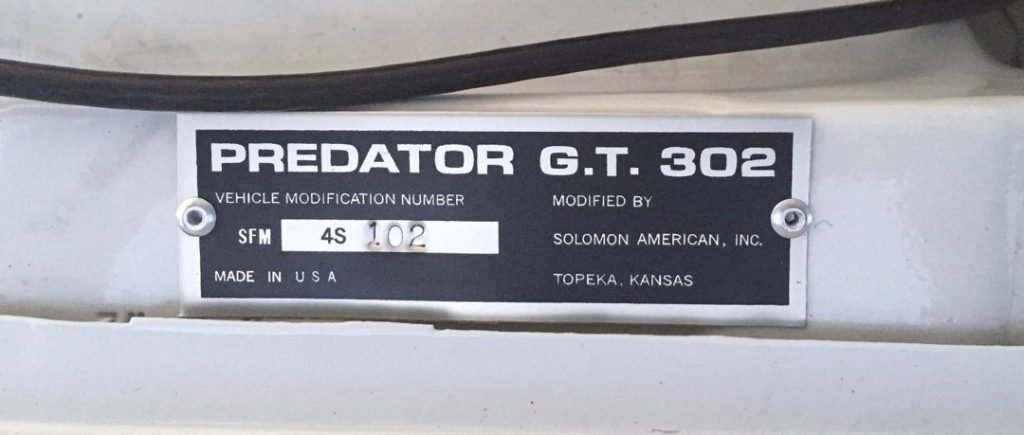 You can tell you have an authentic Predator GT302 by the plate that's riveted on the inner fender next to the strut tower.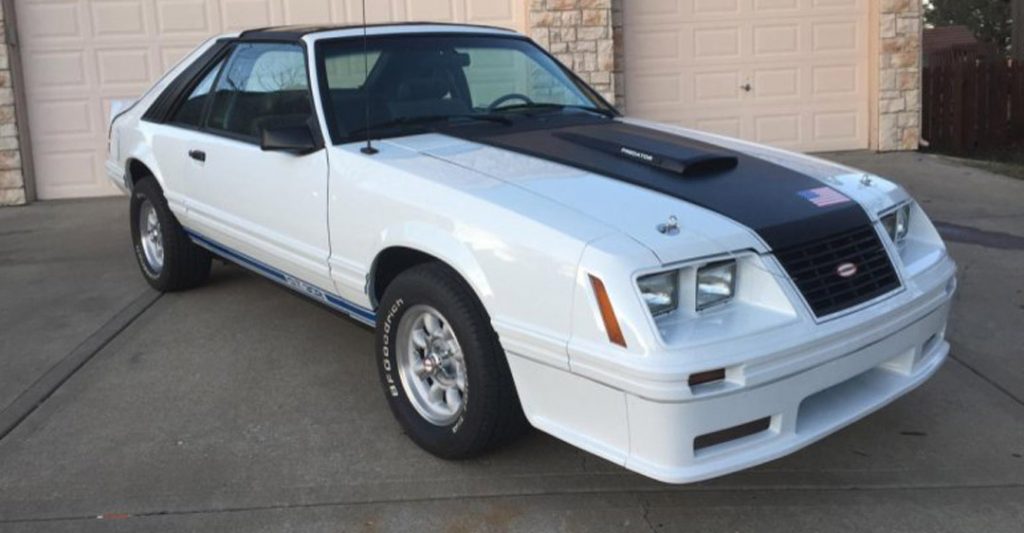 In 1984, Solomon American saw a dramatic jump in production to nearly 130. A press release from 1984 reads: Four-place fastback coupe; Solomon American dressed 302 cubic inch OHV Predator V8 engine including free flow high performance air cleaner, finned Predator aluminum valve covers; for barrel carburetor; fully synchronized Borg-Warner 5 speed transmission; computer designed competition suspension geometry; one inch diameter front anti-roll bar; fully stabilized torque controlled rear axle; wide base aluminum wheels mounted with radial design performance tires; familiar-designed functional hood air scoop; charcoal or red interior with bucket type seats; 4 point tubular steel show bar; two speed electric windshield wipers and washers; 15.1:1 power assisted rack and pinion steering; competition type locking studs and safety pins; rocker panel identification stripes, high speed front and rear air dam and spoilers; 3-bar chrome "knock-off" type wheel centers, aluminum rear sport shades, reinforcement inner fender; collector's data plate as limited production.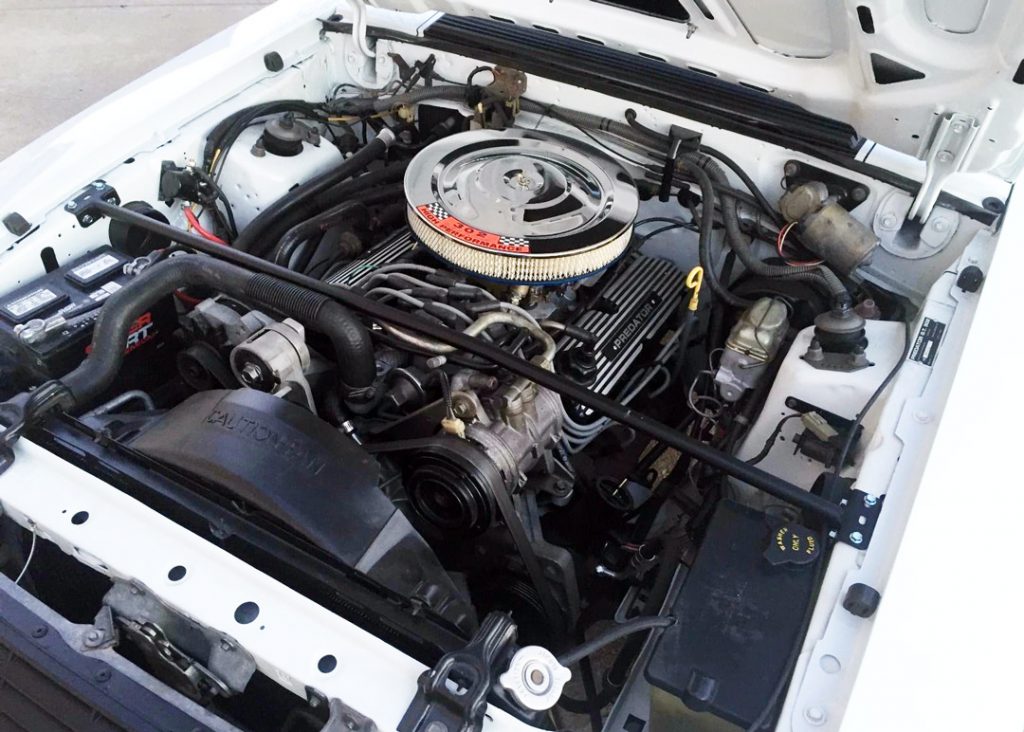 Horsepower and torque specifications are listed as 223HP/287lb-ft and cost was $12,100. Available in white, black, gray, red, copper, charcoal and maroon.
1984 Predator GT302 Brochure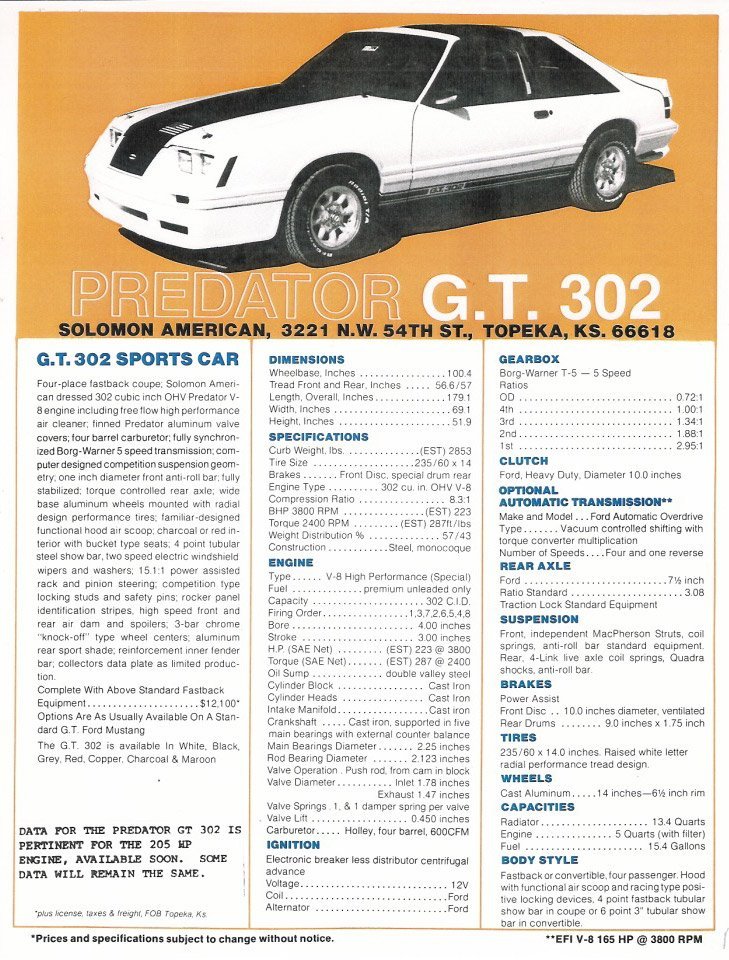 Other Models
Along with the GT302, Solomon also had a GT302H, duplicating the Hertz Mustang in black with gold stripes. Even more interesting is the GT302R, only 6 convertibles were produced in 85 and included a fiberglass scooped hood, underdrive pulleys and 3.73 or 4.10 gears, headers, larger carburetors, cam upgrades, etc… Below is a Predator 'vert and a Saleen!

In 86, the Fox Mustang was coming into its own with factory upgrades like EFI and 8.8 rear-end. There were only 23 Predator GT302's built in its last year run.
[Special thanks to Steve who sent me pics and the suggestion to write about the Predator Mustang]