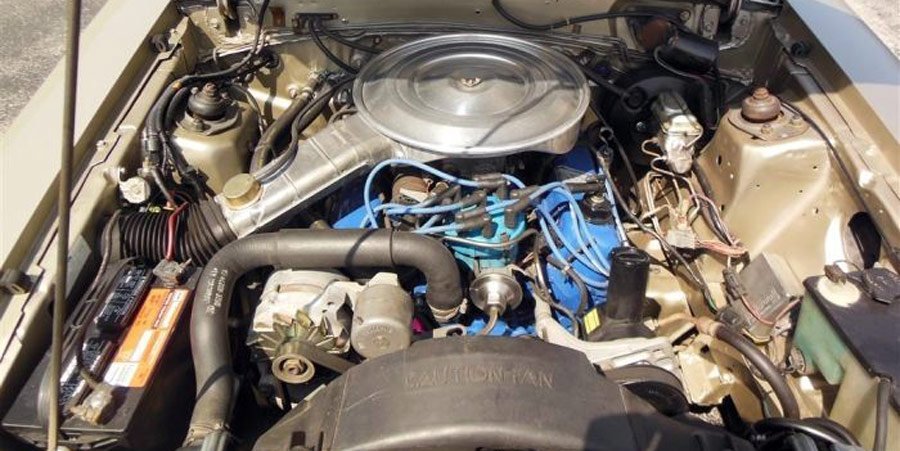 1979 – 140 HP @ 3600
Taken from the 1978 Mustang II stock
Motorcraft 2700 2-barrel carburetor
8.4:1 compression
Hydraulic flat tappet .050″ Duration-204/214; Cam Lift-.280/.295; Lobe Center-107/117.
1980/1981 – Nope
The 5.0 was replaced with a 4.2L V8 with 119HP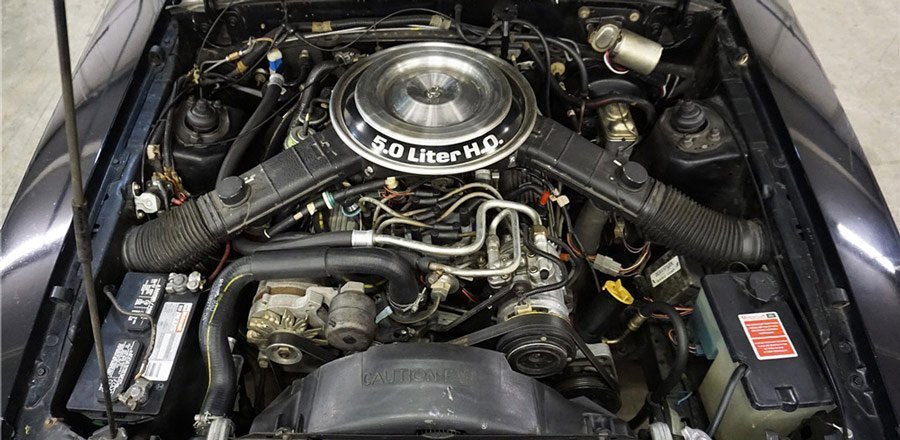 1982 – 157 HP @ 4200
Introduction of the 5.0 HO with the help of Jim Clarke
Cast pistons and 8.4:1 compression ratio
Heads with smaller "high velocity" ports and valves
'73 Torino flat tappet cam (260°/278° int/exh duration,.416″/.444″ int/exh valve lift)
Double row roller timing chain
369 cfm Motorcraft 2-barrel carburetor
Aluminum intake manifold
Dual snorkel, high dome cover, low restriction element, air cleaner
Cast iron exhaust manifold with a 2″ outlet, 2.25″ Y-pipe
Lightweight (120 lb.) thin-walled 302 block
Old-style 2-piece rear main bearing seal
50 oz.-in. unbalance flywheel and 34 oz.-in. damper
1983/1984 – 175 HP @ 4200
600 cfm Holley 4180C 4-barrel carburetor
New block and crankshaft using a one-piece main seal introduced mid-year
Redesigned choke, eliminating heat tubes from the manifolds
1985 – 210 HP @ 4400
New hydraulic roller tappet camshaft (266° duration and .444 valve lift)
Revised block (122 lb.) with two retainer bosses for roller tappets.
New cylinder heads, revised to allow service removal of the roller tappets
Distributor drive gear material changed to be compatible with steel camshaft
Forged pistons with low tension rings and thicker ring lands. Compression remained at 8.4:1
Holley 4180C carburetor, with improved secondary metering
Increased flow for water pump
Factory stainless steel tubular headers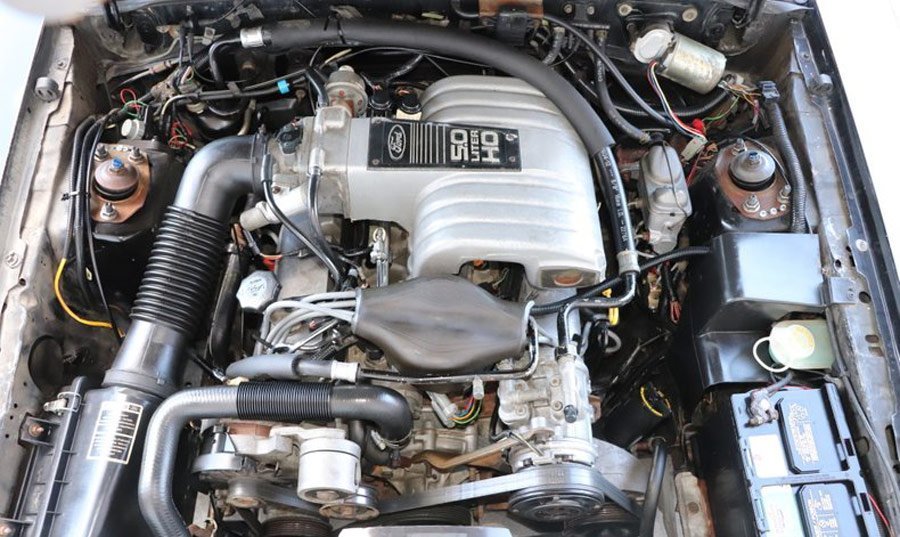 1986 – 200 HP @ 4000
Stronger block (126 lb.) with better oil control
Compression increased to 9.2:1 with flat-top pistons
High Swirl E6 passenger car heads with masked intake valve
Same roller camshaft as 1985
Multi-port speed density EFI, 58 mm throttle body and 19 lbs/hr. injectors
1987/88 – 225 HP @ 4000
Same Camshaft, exhaust manifolds, and block as 1986
Truck heads (E7) with revised combustion chambers
0:1 compression TRW forged pistons with valve reliefs
Speed Density EFI with same intake runners, 60 mm throttle body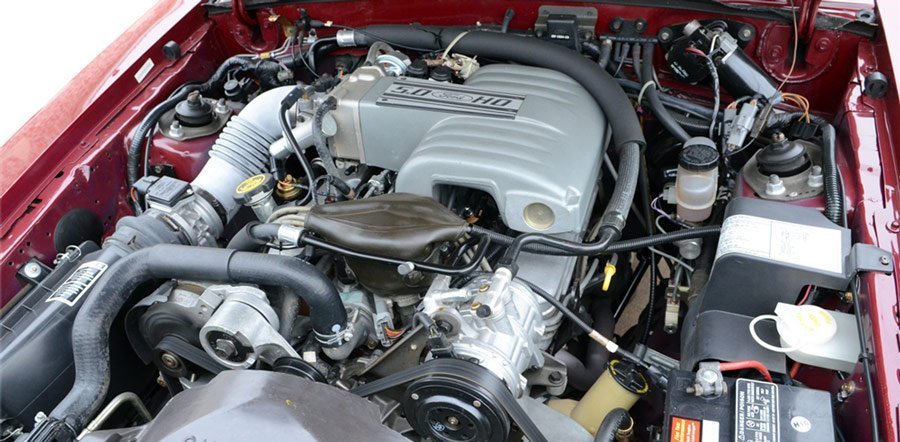 1989/92 – 225 HP @ 4000
Same block, heads, intake and exhaust manifolds as 1987
Mass Airflow (MAF) EFI allowing for better performing cams
The 89/92 5.0 offers the greatest performance potential
Power Rating Differences: The 5.0's rated output of 225 HP for 1987-1992 was a NET rating.  And in 1993 Ford reduced it to 205 HP mostly in a way that suggested the 225 hp figure had potentially been a little optimistic. This was more of an SAE standards thing than the 93 model years getting less power.
1993 – 215 HP @ 4200
Mostly identical to 1989/92 engines
Hypereutectic aluminum pistons
Hi-torque, mini starter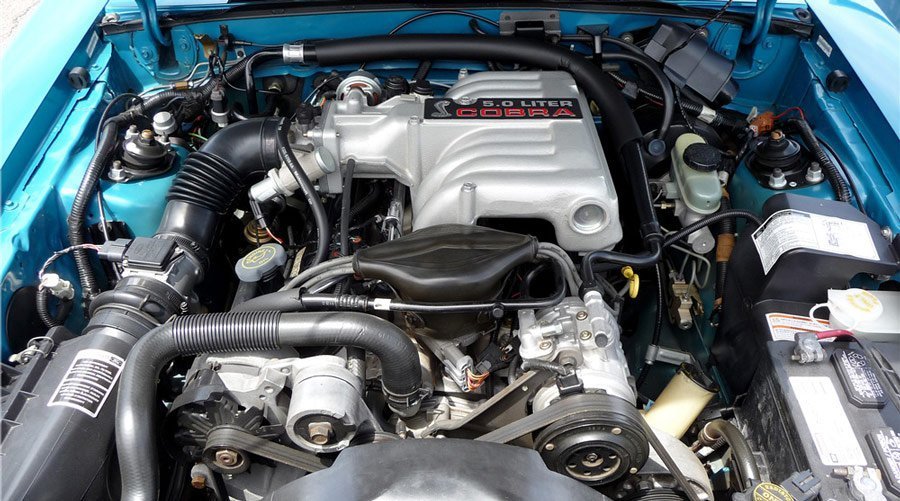 1993 Cobra – 235 HP  @ 4600
Cast iron GT-40 heads
Cast aluminum GT-40 style intake
65 mm throttle body, 24 lbs-hr injectors, 70mm mass air meter
7:1 ratio roller rocker arms
Cam (F3ZE-6250-CA) with 270 int/exh duration and .480 int/exh valve lift
Special type exhaust manifolds
Specially programmed EEC-IV