We get asked this question a lot in communities. The answer is never straight-forward, you can't expect too detailed of an answer without research. This is where you need to do your homework.
It's not all that difficult, you need to honestly evaluate the condition of your fox and compare it to others for sale in both your local market and recent auctions. Also knowing which market segment you fall into will give you further details into what they're looking for and how much they're willing to pay for it. At the end of the day, it's worth whatever someone is willing to pay for it.
Notchbacks have been getting a lot of attention recently. When they were new, no one really wanted them and in return, not many were produced. So if you have a factory 5.0/T5 notch, you have a head-start in value.  Having a notchback doesn't immediately mean you struck oil though. Don't fall for the hype or you could be disappointed.
What helps determine Fox Body value today?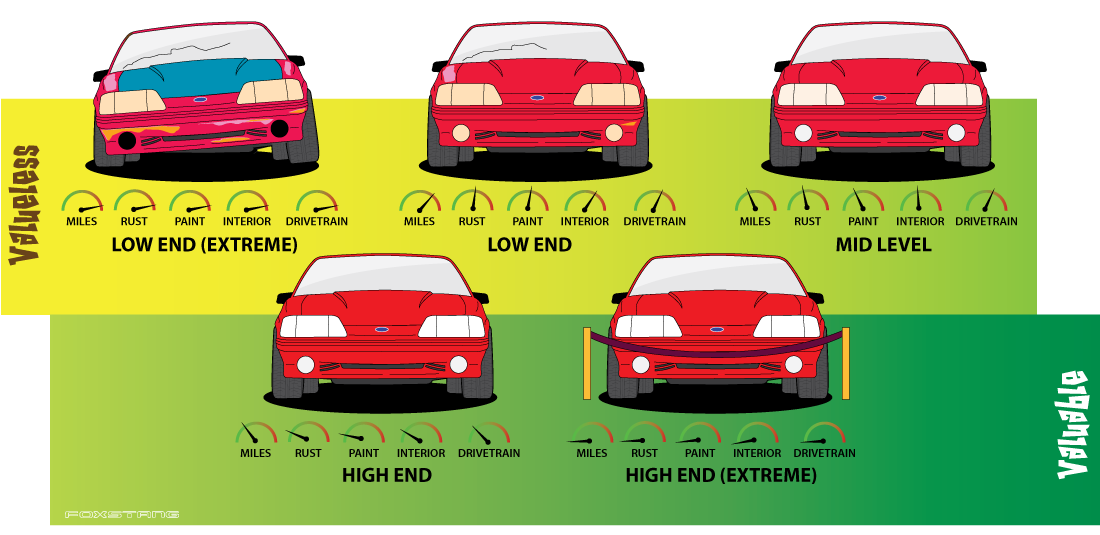 There are certain things that will keep a Fox Mustang in the low end of the "value spectrum". Generally speaking, below are a few things that will help differentiate $800 and $8,000 foxes:
Sheet metal & rust – Things like frame rail rot and rotted/torn torque boxes will automatically put your fox in the low-end, possibly even extreme low-end of the spectrum. People often gut and scrap their Fox Mustangs when there is too much rust.

Paint condition – Factory paint that still has a sheen on a rust-free chassis will help elevate your fox to the mid-level or higher. Cars needing rust-repair and repaint will be stuck in the low-end of the spectrum. So will poor bodywork and amateur paint jobs. The thing is bodywork scares most people and that reduces the number of people willing to buy such projects and reduces the sale price.
Factory 5.0/T5 – VINs indicating the factory 5.0/5-speed options will help build value. Pushrod 5.0 swap cars will give the buyer some "negotiation power". The swap work, body and chassis will have to be immaculate to make it to mid-level but can be a hard sell for some. [This bugs me personally, a good solid swap car is just as good if not better since it has been recently checked literally bumper to bumper.]
Interior – Factory Black interior (on available model years) will bring in the most value, seconded by one of the grey options. No matter the interior color, the shape it's in will tell the potential buyer of the overall shape of the fox. Missing, broken and stained pieces will make things difficult to get to mid-level value spectrum.
Estimated price ranges*
*These are based on research on Craigslist, various foxes across the USA in various conditions that seem to fit in each of the ranges. Data sampling is too small to be a definitive guide. Coupes (or Notchbacks) will have higher dollar amounts, while convertibles will have lower from Low End to High End. In the extreme Low End, the body type doesn't seem to affect prices yet. Use as a high-level generic idea for the specific value ranges.
Extreme Low End – $300 … $1,000
Low End – $1,000 … $2,000
Mid Level – $2,000 … $8,000
High End – $8,000 … $15,000
Extreme High End – $15,000 … $40,000 (or more)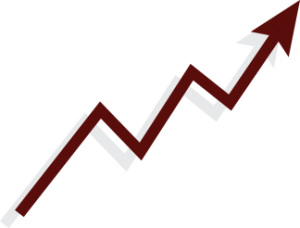 Prices are definitely trending upwards though and this is because not all factory 5.0 Fox Mustangs survived and as more and more people want one, their "values" have been steadily increasing. Especially for factory 5.0/T5 coupes which do not have high production numbers.
Striking Gold with a Fox?
Lots of recent controversy around certain foxes sold from reality TV stars and this triggered some interesting reactions in the fox community. Chances are those 80k Convertibles were flukes but there is a definitive increase in Foxbody values regardless.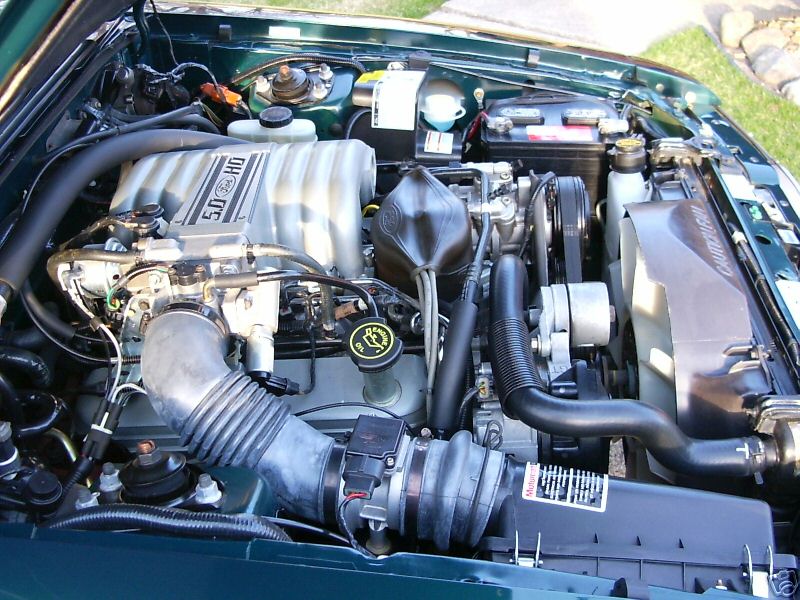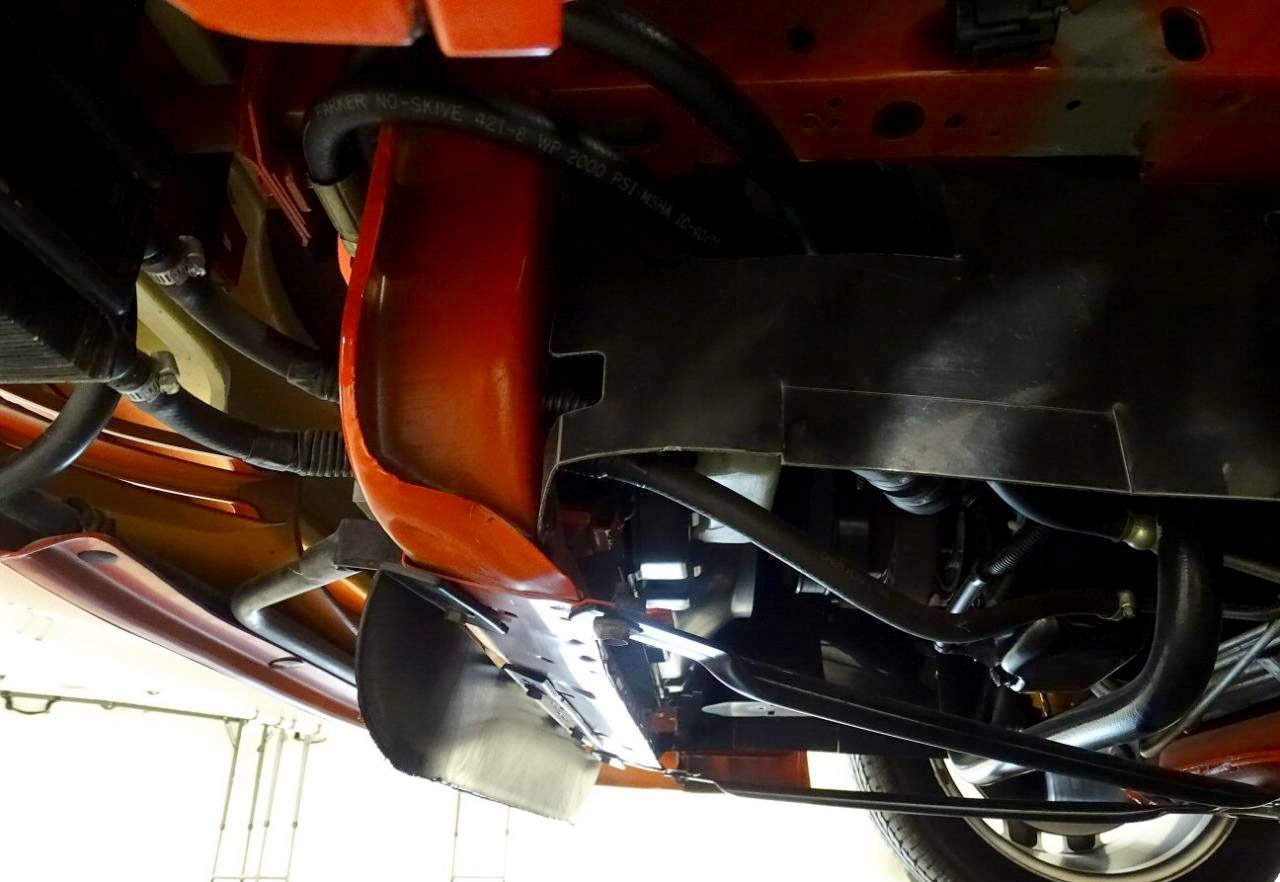 But chances are you probably don't have such a high-value Fox in your possession. Foxes that go for stupid prices (that aren't influenced by reality TV) are rare low to no mile un-driven survivors. They are as they rolled off the production line. Completely unmodified right down to still having a factory air silencer. These cars are museum pieces and one simply does not buy this to drive instead they become curators to preserve some automotive history.
Possible collector versions?
There are some significant historical changes that happened to Mustangs from 79 to 93 which could be considered as "collectible" one day. Although there isn't a ton of this on forums and in collector car circles yet, once the Foxbody Mustang reaches its peak "collectability" the following could potentially be good candidates.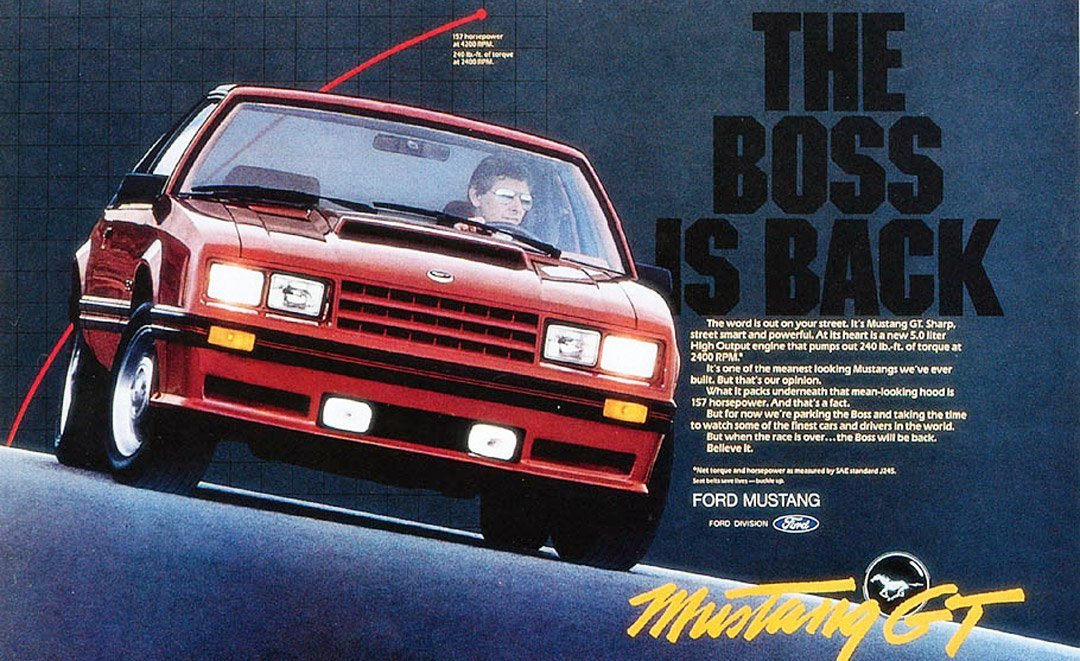 1979 Cobra – First year for the fox body Mustang and had the optional 5.0. Keep in mind the Cobra wasn't a separate Mustang back then, it was an options package.
1982 GT "Boss is Back" – This year saw the return of the GT badge and the 5.0!
1983 Convertible – The first Fox convertible Mustang. However, right now, there's isn't a high demand for convertibles and you can get a much cleaner fox in convertible form for the same money as a notch.
1984/1986 SVO – Well ahead of its time, the SVO had a powerful turbo 4 banger thirty years before the "ecoboost", good aerodynamics, sport-tuned suspension. Actually one of the best American made sports cars in its day.
Special Editions – Ford created some special edition foxes through-out the years. Special editions such as the 1979 Pace Car, GT350 Anniversary, 7UP 'vert, and Feature Cars.
SSP/CHP – Those special service vehicle foxes didn't have a huge production run and not only did they have a hard life on the force, but they were also often sold and used for racing. Not a lot survived.
1987/88 T-tops – No one really knows how many T-tops were produced, Ford never really produced the T-top fox, instead subcontracted the work done to hard-top Mustangs. There are no formal records (lumped into convertible sales possibly), we do know the Aero nose T-top cars are the rarest with that option. However since documentation will be extremely difficult, T-tops probably won't affect value and collectability.
1993 Cobra and Cobra R – That's kind of a given but the Performance Red (EY) is said to have only 9 produced!?
Specialty Performance Foxes – Obviously Saleens and there's also the Predator GT302 (very rare), DECH (Former F1 Driver Derek Hanson), ASC McLaren, etc…
ASC/McLaren Mercury Capri – Rarer than a Fox Mustang and if you happen to have the DSO code (D32), you could have a very rare Fox in your hands.
Low production run across the years – Ford didn't sell millions of 5.0 coupes, we know that but also didn't produce a lot of zero-option AC-Delete foxes. Whether those will become more desirable is unknown at this point.  Here are some examples of extremely low production Foxbody Mustangs:
1987 5.0 coupe – Dark Sable – (45 made / 27 in LX 'vert format)
1986 5.0 coupe – Dark Sage – (6 made)
1985 SVO – Dark Sage – (32 made out of 1,951 total SVO's in 85)
1984 GT Turbo Convertible – Light Academy Blue – (1 made & hard to believe)
So, really, what is a Fox Body Mustang worth?
The whole point of this post was to help you figure that out on your own. To find out you need to follow these simple steps:
Get an accurate "state of affairs" on your fox, to find out the exact condition.
Get a Marti-Report, collect as much documentation as you can.
Consider reversing your mods.
Compare with other similar foxes on the market and be realistic.
Price your fox accordingly.
What can help you get the most value out of your classified listings is to post good quality and detailed pics of the car, engine bay, underside, problem areas, interior, etc…
A detailed ad will help prevent some wasted time for you and your buyers – trying to hide problem areas won't help anything. People are educated enough to know where to look when buying a Fox. It's frustrating for a potential buyer to drive 2 hours to check out a "mint rust free" fox when only to arrive at rusted frame rails and ruined torque boxes and $2000 of bodywork project car. When Rust-Free = Rust, Free of Charge!
In sales, if you place an ad and get thousands of responses, it may mean you started with too low of a price and if you get absolutely nothing it means you started too high. With that being said, it may be better to start high and lower the price than to start low and raise the price (that will just infuriate people and it's unfair to buyers out there).